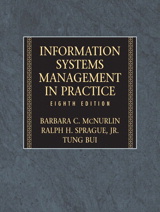 Description
For graduate and undergraduate courses in IT management and IT strategy.

The authors utilize their years of working with companies on IT management / strategy to provide students with a practical look at the evolution of IT in business.


Table of Contents
Preface
CHAPTER 1 Information Systems Management in the global economy

PART I LEADERSHIP ISSUES IN THE DIGITAL ECONOMY
CHAPTER 2 The Top is Job
CHAPTER 3 Strategic uses of Information Technology
CHAPTER 4 Strategic Information Systems Planning

PART II MANAGING THE ESSENTIAL TECHNOLOGIES IN THE DIGITAL ECONOMY
CHAPTER 5 Designing Corporate IT Architecture
CHAPTER 6 Managing Telecommunications
CHAPTER 7 Managing Corporate Information Resources
CHAPTER 8 Managing Partnership-Based IT Operations

PART III MANAGING SYSTEM DEVELOPMENT
CHAPTER 9 Technology for Developing effective Systems
CHAPTER 10 Management Issues in System Development
CHAPTER 11 Managing Information Security

PART IV SYSTEMS FOR SUPPORTING KNOWLEDGE-BASED WORK
CHAPTER 12 Supporting Information-centric Decision Making
CHAPTER 13 Supporting IT-enabled Collaboration
CHAPTER 14 Supporting Knowledge Work
CHAPTER 15 The Opportunities and Challenges Ahead

Glossary
Index


Purchase Info ?
With CourseSmart eTextbooks and eResources, you save up to 60% off the price of new print textbooks, and can switch between studying online or offline to suit your needs.
Once you have purchased your eTextbooks and added them to your CourseSmart bookshelf, you can access them anytime, anywhere.
Buy Access
Information Systems Management, CourseSmart eTextbook, 8th Edition
Format: Safari Book
$102.99 | ISBN-13: 978-0-13-243719-6