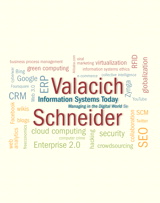 Description
For undergraduate and graduate courses in introductory information systems.
Bring current, real-world concepts into your classroom with Information Systems Today: Managing the Digital World.
One of the greatest challenges in teaching IS courses is keeping pace with what's happening in the real-world. This text shows students how information technology and systems are becoming increasingly important in all aspects of today's organizations and society.
Table of Contents
Chapter 1: Managing in the Digital World
Chapter 2: Gaining Competitive Advantage through Information Systems
Chapter 3: Managing the Information Systems Infrastructure and Services
Chapter 4: Enabling Commerce Using the Internet
Chapter 5: Enhancing Collaboration Using Web 2.0
Chapter 6: Enhancing Business Intelligence Using Information Systems
Chapter 7: Enhancing Business Processes Using Enterprise Information Systems
Chapter 8: Improving Supply Chains and Strengthening Customer Relationships Using Enterprise Information Systems
Chapter 9: Developing and Acquiring Information Systems
Chapter 10: Securing Information Systems
Technology Briefing: Foundations of Information Systems Infrastructure


Purchase Info ?
With CourseSmart eTextbooks and eResources, you save up to 60% off the price of new print textbooks, and can switch between studying online or offline to suit your needs.
Once you have purchased your eTextbooks and added them to your CourseSmart bookshelf, you can access them anytime, anywhere.
Buy Access
Information Systems Today, CourseSmart eTextbook, 5th Edition
Format: Safari Book
$91.99 | ISBN-13: 978-0-13-706701-5