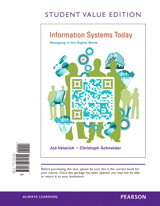 Description
Directed primarily toward undergraduate CIS/MIS college/university majors, this text also provides practical content to current and aspiring industry professionals.

Information Systems Today shows how information technology and systems are continuing to expand within all aspects of today's organizations and society.
Note: This is the standalone book if you want the book/access card order the ISBN below:
0133098753 / 9780133098754 Information Systems Today: Manageing in the Digital World Plus MyMISLab with Pearson eText -- Access Card Package
Package consists of
0132971216 / 9780132971218 Information Systems Today: Managing in the Digital World 6/e
0132992051 / 9780132992053 MyMISlab with Pearson eText -- Access Card -- for Information Systems Today: Managing in the Digital World
Table of Contents
1. Managing in the Digital World
2. Gaining Competitive Advantage Through Information Systems
3. Managing the Information Systems Infrastructure and Services
4. Enabling Business-to-Consumer Electronic Commerce
5. Enhancing Organizational Communication and Collaboration Using Social Medi
6. Enhancing Business Intelligence Using Information Systems
7. Enhancing Business Processes Using Enterprise Information Systems
8. Strengthening Business-to-Business Relationships Via Supply Chain and Customer Relationship Management
9. Developing and Acquiring Information Systems
10. Securing Information Systems
This title is also sold in the various packages listed below. Before purchasing one of these packages, speak with your professor about which one will help you be successful in your course.
Package ISBN-13: 9780133877809
Includes this title packaged with:
MyITLab with Pearson eText -- Access Card -- for Exploring with Office 2013
Mary Anne Poatsy, Keith Mulbery, Cynthia Krebs, Lynn Hogan, Amy M. Rutledge, Robert Grauer
$156.20 $149.56 | Add to Cart
Package ISBN-13: 9780133869149
Includes this title packaged with:
Exploring: Microsoft Excel 2013, Comprehensive
Mary Anne Poatsy, Keith Mulbery, Jason Davidson, Robert T. Grauer
MyITLab without Pearson eText -- Access Card -- for Exploring Microsoft Office 2013 (Replacement Card)
Mary Anne Poatsy, Keith Mulbery, Cynthia Krebs, Lynn Hogan, Amy M. Rutledge, Robert Grauer
$394.87 $378.09 | Add to Cart