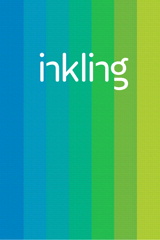 Description
Learn beyond the book with titles built for your iPad®
Inkling is a completely new way to learn. Built from the ground up for iPad, Inkling turns paper-based textbooks into engaging, interactive learning experiences while staying compatible with the print book for classroom use.
KEY FEATURES
Flexibility to purchase by the chapter or the complete book
Ability to "Complete my Book" after buying individual chapters
Shared Notes that make it easy to collaborate with friends in real time
Integrated interactive media in every textbook title, such as movies, 3-D objects, and guided tours
A simple and powerful user interface that makes it easy to study
Interactive quizzes that help you immediately gauge your level of understanding
An intuitive search engine that predicts your search as you type
Purchase Info ?
ISBN-10: 0-321-80337-X
ISBN-13: 978-0-321-80337-5
Format: Inkling
This publication is not currently for sale.