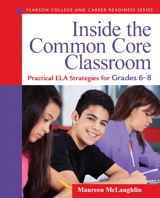 Description
An indispensable guide for all who teach in grades six through eight, as well as curriculum directors, reading specialists, literacy coaches, and school administrators, Inside the Common Core Classroom: Practical ELA Strategies for Grades 6-8 is the middle-grade volume of Pearson's definitive new series on the Common Core State Standards. It provides essential information about the Common Core initiative, insights into the standards, practical classroom strategies, and vignettes from Common Core-aligned classrooms. Real-life instruction examples are included in every chapter, along with a variety of teaching strategies and applications. An interdisciplinary unit on climate change pulls the book together with discipline-specific teaching suggestions, sample lesson plans, an assessment and evaluation plan, a culminating activity, and a rich collection of additional resources.
Table of Contents
Brief Table of Contents
Series Overview Donna Ogle
Chapter 1 The Common Core English Language Arts: Grade 6 – 8
Chapter 2 Reading Comprehension
Chapter 3 Vocabulary
Chapter 4 Text Complexity
Chapter 5 Speaking and Listening
Chapter 6 Writing
Chapter 7 Curriculum
Appendix Interdisciplinary Unit on Climate Change
This title is also sold in the various packages listed below. Before purchasing one of these packages, speak with your professor about which one will help you be successful in your course.
Package ISBN-13: 9780133938456
Includes this title packaged with:
Inside the Common Core Classroom: Practical ELA Strategies for Grades 9-12
Katherine S. McKnight
$57.60 | Add to Cart
Purchase Info
Digital Choices
eTextbook ?
With CourseSmart eTextbooks and eResources, you save up to 60% off the price of new print textbooks, and can switch between studying online or offline to suit your needs.
Once you have purchased your eTextbooks and added them to your CourseSmart bookshelf, you can access them anytime, anywhere.