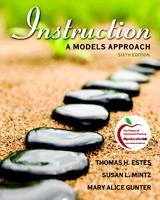 Description
This classroom-ready resource makes instructional models clear and relevant for readers by placing them within a standards-based and instructionally aligned process.
Instruction: A Models Approach closely links more than ten instructional models based on current research and evidence-based practice to the preparation of objectives, differentiation practices, and assessment options.
The text includes scenarios of the models in both elementary and secondary classrooms, lesson plans for both elementary and secondary classes in a variety of content areas, and detailed steps for implementing the model using evidence based instructional strategies. Attention is paid to when and how the models can be used in particular contexts with specific skills and knowledge.
Table of Contents
PART I: PLANNING FOR INSTRUCTION
1. Educational Standards
2. Organizing Content
3. Instructional Objectives, Assessment, and Instruction
PART II: MATCHING OBJECTIVES TO INSTRUCTION: A MODELS APPROACH
4. The Direct Instruction Model: Teaching Skills, Facts, and Knowledge
5. The Concept Attainment Model: Defining Concepts Inductively
6. The Concept Development Model: Analyzing the Relationships between Parts of a Concept
7. Problem-Centered Inquiry Models: Teaching Problem Solving through Discovery and Questioning
8. Synectics: Developing Creative Thinking and Problem Solving
9. The Cause and Effect Model: Influencing Events by Analyzing Causality
10. Socratic Seminar: Analyzing Text
11. The Vocabulary Acquisition Model: Learning the Spellings and Meanings of Words
12. The Integrative Model: Generalizing from Data
13. Cooperative Learning Models: Improving Student Learning Using Small Groups
PART THREE PUTTING IT ALL TOGETHER: MATCHING OBJECTIVES TO INSTRUCTIONAL MODELS
14. A Kindergarten Case Study
15. A Middle School Case Study
16. A High School Case Study
17. The Wisdom of Practice: Creating a Positive Learning Environment
References
Index
Purchase Info ?
With CourseSmart eTextbooks and eResources, you save up to 60% off the price of new print textbooks, and can switch between studying online or offline to suit your needs.
Once you have purchased your eTextbooks and added them to your CourseSmart bookshelf, you can access them anytime, anywhere.
Buy Access
Instruction: A Models Approach, CourseSmart eTextbook, 6th Edition
Format: Safari Book
$65.99 | ISBN-13: 978-0-13-704679-9