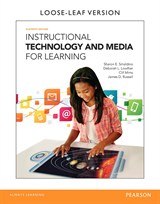 Description
This title is only available as a loose-leaf version with Pearson eText, or an electronic book.
Instructional Technology and Media for Learning shows specifically and realistically how technology and media enhance and support everyday teaching and learning. Written from the viewpoint of the teacher, it shows how to integrate a complete range of technology and media formats into classroom instruction using the ASSURE model for lesson planning. Ideal for educators at all levels, it helps readers to incorporate technology and media into best practice, to use them as teaching tools, and to guide students in using them as learning tools. Examples come from elementary and secondary education. The new Eleventh Edition keeps readers up to pace with the innovations in all aspects of technology, particularly those related to computers, Web 2.0, social networks, and the Internet. The updating throughout reflects the acceleration trend toward digitizing information and school use of telecommunications resources, such as the Web. It also addresses the interaction among the roles of teachers, technology, coordinators, and school media specialists, all complementary and interdependent teams within the school.
Table of Contents
Chapter 1: Exploring 21st Century Learning
Chapter 2: Designing and Assessing 21st Century Learning
Chapter 3: Integrating Technology and Media into Instruction: The ASSURE Model
Chapter 4: Designing 21st Century Learning Environments
Chapter 5: Engaging Learners with Digital Devices
Chapter 6: Learning with Web 2.0 and Social Media
Chapter 7: Achieving Learning at a Distance
Chapter 8: Enhancing Learning with Audio and Video
Chapter 9: Enhancing Learning with Text and Visuals
Chapter 10: Preparing for Tomorrow's Challenges
Purchase Info
ISBN-10: 0-13-356415-0
ISBN-13: 978-0-13-356415-0
Format: Special Item
This publication is not currently for sale.
Digital Choices
eTextbook ?
With CourseSmart eTextbooks and eResources, you save up to 60% off the price of new print textbooks, and can switch between studying online or offline to suit your needs.
Once you have purchased your eTextbooks and added them to your CourseSmart bookshelf, you can access them anytime, anywhere.