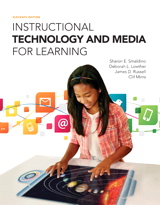 Description
This title is only available as a loose-leaf version with Pearson eText, or an electronic book.
Instructional Technology and Media for Learning shows specifically and realistically how technology and media enhance and support everyday teaching and learning. Written from the viewpoint of the teacher, it shows how to integrate a complete range of technology and media formats into classroom instruction using the ASSURE model for lesson planning. Ideal for educators at all levels, it helps readers to incorporate technology and media into best practice, to use them as teaching tools, and to guide students in using them as learning tools. Examples come from elementary and secondary education. The new Eleventh Edition keeps readers up to pace with the innovations in all aspects of technology, particularly those related to computers, Web 2.0, social networks, and the Internet. The updating throughout reflects the acceleration trend toward digitizing information and school use of telecommunications resources, such as the Web. It also addresses the interaction among the roles of teachers, technology, coordinators, and school media specialists, all complementary and interdependent teams within the school.
Enhanced Pearson eText. Included in this package is access to the new Enhanced eText exclusively from Pearson. The Enhanced Pearson eText is:
Engaging. Full-color online chapters include dynamic videos that show what course concepts look like in real classrooms, model good teaching practice, and expand upon chapter concepts. Over 24 video links, chosen by our authors and other subject-matter experts, are embedded right in context of the content you are reading.

Convenient. Enjoy instant online access from your computer or download the Pearson eText App to read on or offline on your iPad and Android tablets.*

Interactive. Features include embedded video, embedded assessment, note taking and sharing, highlighting and search.

Affordable. Experience all these advantages of the Enhanced eText along with all the benefits of print for 40% to 50% less than a print bound book.
*The Pearson eText App is available for free on Google Play and in the App Store.* Requires Android OS 3.1 — 4, a 7" or 10" tablet or iPad iOS 5.0 or newer
0133831655 / 9780133831658 Instructional Technology and Media for Learning, Loose-Leaf Version with Enhanced Pearson eText -- Access Card Package
Package consists of:
0133564150 / 9780133564150 Instructional Technology and Media for Learning, Loose-Leaf Version
0133808394 / 9780133808391 Instructional Technology and Media for Learning, Enhanced Pearson eText -- Access Card
Table of Contents
Chapter 1: Exploring 21st Century Learning
Chapter 2: Designing and Assessing 21st Century Learning
Chapter 3: Integrating Technology and Media into Instruction: The ASSURE Model
Chapter 4: Designing 21st Century Learning Environments
Chapter 5: Engaging Learners with Digital Devices
Chapter 6: Learning with Web 2.0 and Social Media
Chapter 7: Achieving Learning at a Distance
Chapter 8: Enhancing Learning with Audio and Video
Chapter 9: Enhancing Learning with Text and Visuals
Chapter 10: Preparing for Tomorrow's Challenges
Purchase Info
ISBN-10: 0-13-383165-5
ISBN-13: 978-0-13-383165-8
Format: Book
$99.00
We're temporarily out of stock, but order now and we'll send it to you later.
Back Order
Digital Choices
eTextbook ?
With CourseSmart eTextbooks and eResources, you save up to 60% off the price of new print textbooks, and can switch between studying online or offline to suit your needs.
Once you have purchased your eTextbooks and added them to your CourseSmart bookshelf, you can access them anytime, anywhere.