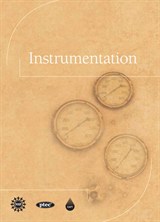 Description
Process Technology Instrumentation is a 24 chapter, two-semester textbook, intended for use in community colleges, technical colleges, universities and corporate settings in which process instrumentation is taught.
Process Technology Instrumentation is designed to teach students about various instrumentations used in the process industries. This text includes a variety of topics including, control loops, symbology, troubleshooting and safety systems. Each chapter contains objectives, key terms, a summary, review questions and activities to enhance the learning experience. Students will find this textbook to be a valuable resource throughout their process technology career.
Table of Contents
Chapter 1: Introduction to Instrumentation
Chapter 2: Process Variables, Elements and Instruments: PRESSURE
Chapter 3: Process Variables, Elements and Instruments: TEMPERATURE
Chapter 4: Process Variables, Elements and Instruments: LEVEL
Chapter 5: Process Variables, Elements and Instruments: FLOW
Chapter 6: Process Variables, Elements and Instruments: ANALYTICAL
Chapter 7: Miscellaneous Measuring Devices
Chapter 8: Introduction to Control Loops: Simple Loop Theory
Chapter 9: Control Loops: Primary Sensors, Transmitters, and Transducers
Chapter 10: Control Loops: Controllers and Final Control Element Overview
Chapter 11: Control Loops: Control Valves and Regulators
Chapter 12: Symbology: Process Diagrams and Instrument Sketching
Chapter 13: Instrumentation Troubleshooting
Chapter 14: Switches, Relays and Annunciators
Chapter 15: Signal Transmission and Conversion
Chapter 16: Controllers
Chapter 17: Control Schemes
Chapter 18: Advanced Control Schemes
Chapter 19: Introduction to Digital Control
Chapter 20: Programmable Logic Control (PLC)
Chapter 21: Distributed Control System (DCS)
Chapter 22: Instrument Power Supply
Chapter 23: Emergency Shutdown (ESD), Interlocks, and Protective Devices
Chapter 24: Instrumentation Malfunctions
Purchase Info ?
With CourseSmart eTextbooks and eResources, you save up to 60% off the price of new print textbooks, and can switch between studying online or offline to suit your needs.
Once you have purchased your eTextbooks and added them to your CourseSmart bookshelf, you can access them anytime, anywhere.
Buy Access
Instrumentation, CourseSmart eTextbook
Format: Safari Book
$78.99 | ISBN-13: 978-0-13-506723-9