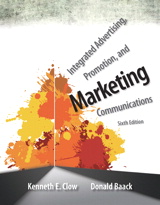 Description
Directed primarily toward undergraduate Marketing college/university majors, this text also provides practical content to current and aspiring industry professionals.

The carefully integrated approach of this text blends advertising, promotions, and marketing communications together, providing readers with the information they need to understand the process and benefits of successful IMC campaigns.
0133131017 / 9780133131017 Integrated Advertising, Promotion, and Marketing Communications Plus NEW MyMarketingLab with Pearson eText -- Access Card Package
Package consists of
0133112934 / 9780133112931 NEW MyMarketingLab with Pearson eText -- Standalone Access Card --
0133126242 / 9780133126242 Integrated Advertising, Promotion, and Marketing Communications
Table of Contents
Part I. The IMC Foundation
1. Integrated Marketing Communications
2. Corporate Image and Brand Management
3. Buyer Behaviors
4. The IMC Planning Process
Part II. IMC Advertising Tools
5. Advertising Management
6. Advertising Design: Theoretical Frameworks and Types of Appeals
7. Advertising Design: Message Strategies and Executional Frameworks
Part III. IMC Media Tools
8. Traditional Media Channels
9. Digital Marketing
10. Alternative Marketing
Part IV. IMC Promotional Tools
11. Database and Direct Response Marketing and Personal Selling
12. Sales Promotions
13. Public Relations and Sponsorship Programs
Part V. IMC Ethics, Regulation, and Evaluation
14. Regulations and Ethical Concerns
15. Evaluating an Integrated Marketing Program
Enhance your learning experience with text-specific study materials.
This title is also sold in the various packages listed below. Before purchasing one of these packages, speak with your professor about which one will help you be successful in your course.
Package ISBN-13: 9780133497786
Includes this title packaged with:
Developing a Creative and Innovative Integrated Marketing Communication Plan
James R. Ogden
$309.67 | Add to Cart
Package ISBN-13: 9781269923958
Includes this title packaged with:
Strategic Marketing Problems
Roger A. Kerin
Pearson Course Information - Valuepack Welcome Card
Pearson Learning Solutions
$37.33 | Add to Cart
Purchase Info
Digital Choices ?
MyLab & Mastering with Pearson eText is a complete digital substitute for a print value pack at a lower price.
MyLab & Mastering ?
MyLab & Mastering products deliver customizable content and highly personalized study paths, responsive learning tools, and real-time evaluation and diagnostics. MyLab & Mastering products help move students toward the moment that matters most—the moment of true understanding and learning.
+ Other Options
eTextbook ?
With CourseSmart eTextbooks and eResources, you save up to 60% off the price of new print textbooks, and can switch between studying online or offline to suit your needs.
Once you have purchased your eTextbooks and added them to your CourseSmart bookshelf, you can access them anytime, anywhere.
Print Choices
Loose Leaf Version ?
Books a la Carte are less-expensive, loose-leaf versions of the same textbook.