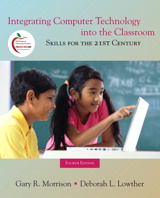 Description
For courses in Computers in Education and Instructional Media and Technology.
This computers in education textbook is constructed around a constructivist lesson-planning model. This text helps prospective teachers understand the potential of using computers in the classroom and develop new methods for using computers. The authors provide a rationale for integrating computers into the classroom curriculum by usign them as tool, rather than just an instructional delivery device. Accessible even for students with minimal computer skills–using a mouse, using menus, and opening/creating/saving documents. Coverage is aligned with ISTE guidelines and structured around the ten-step NTeQ (iNtegrating Technology for inQuiry) model for developing and implementing integrated lesson plans. Word processing, spreadsheets, databases, publishing software, the Internet, and educational software are all explored, with the goal of demonstrating how to determine whether or not computers should be used and how best to use them.
Table of Contents
Chapter 1: Rethinking Computers and Instruction
Preparing Students for the 21st Century
21st Century Knowledge and Skills
National Educational Technology Standards for Students
Linking Educational Reform and Technology
Moving from Teacher- to Student-Centered Instruction
Creating Open-Ended Learning Environments
Achieving Collaborative Learning
The NTeQ Model
The NTeQ Philosophy
NTeQ and the Teacher
NTeQ and the Student
NTeQ and the Computer
NTeQ and the Standards
Chapter 2: NTeQ: Designing an Integrated Lesson
Designing an Integrated Lesson using the NTeQ Approach
Specifying Objectives
Matching Objectives to Computer Functions
Specifying a Problem
Research and Analysis
Planning the Results Presentation
Planning: Activities During Computer Use
Planning: Activities Before Computer Use
Planning: Activities After Computer Use
Planning: Supporting Activities
Assessment
Chapter 3: Digital Tools in Today's Classrooms
Using Digital Tools in the Classroom
Four Tech Digital Tool Categories
Platform
Connectivity
Device Software
File Format
Computers
Desktop Components
All-in-One Desktops
Laptops
Computer Pros and Cons
Mobile Devices
Digital Media Players/Recorders
Digital Cameras
e-Book Readers
GPS Navigation Receivers
Graphing Calculators
PDA (Personal Data Assistants)
Personal Response Systems
Mobile Devise Pros and Cons
Peripherals
Audio Devices
Interactive Whiteboards
Printers
Projectors
Scanners
Science Probes
Webcams
Peripherals Pros and Cons
Data Storage Devices
External Hard Drives
Flash Drives
Storage Cards
Digital Storage Pros and Cons
Chapter 4: Computer Software in Today's Classrooms
Software Categories
Five Categories of software
Production Software
Word Processing
Spreadsheets
Presentation
Database
Graphic Organizers
Graphics
Audio/Video Editing
Authoring
Research Software
Browsers
Search Engines
Plug-ins
Communication/Collaboration Software
Email
Lists
Chat
Instant Messaging
Discussion Board
Blogs
Wiki
RSS
Podcasts
Problem-Solving Software
Games
Simulations
Educational Software
Drill-and-Practice
Tutorials
Integrated Learning Systems
Process Tools
Testing Software
Chapter 5: Think Sheets Using Technology for Higher-Order Learning
The Self-Regulated Learner
What is Self-Regulation?
Strategies for Self-Regulation
Using Think Sheets for Higher-Order Learning
Three Types of Think Sheets
Components of a Think Sheet
Using the NTeQ Problem-Solving Process for Higher-Order Learning
Components of the NTeQ Problem-Solving Process
As-Needed Activities
Chapter 6: Exploring The World Wide Web in the Classroom
The Internet
Using the Web to Achieve ISTE NETS for Students
Students using the Web as a Tool
The Web as an Information Source
The Web as a Collaboration Tool
The Web as a Communication Tool
Teachers using the Web as a Tool
Content management
Connecting with Parents and the Community
Professional development
Appropriate Practices with the Web
District Policies
Classroom Policies
Copyright Issues
Using the Internet with an NTeQ Lesson
Chapter 7: Word Processing
Examining Word Processing
Word Processing in the Classroom
Designing an Integrated Lesson Using Word Processing
NTeQ Lesson Plan
Lesson Bytes for Word Processing
Chapter 8: Integrating Spreadsheets as Tools
Examining Spreadsheets
Spreadsheets in the Classroom
Designing an Integrated Lesson Using Spreadsheets
NTeQ Lesson Plan
Lesson Bytes for Spreadsheets
Chapter 9: Integrating Multimedia as a Tool
Examining Multimedia
Multimedia in the Classroom
Designing an Integrated Lesson Using Multimedia
NTeQ Lesson Plan
Lesson Bytes for Spreadsheets
Chapter 10: Graphic Organizers
Examining Graphic Organizers
Graphic Organizers in the Classroom
Designing an Integrated Lesson Using Graphic Organizers
NTeQ Lesson Plan
Lesson Bytes for Graphic Organizers
Chapter 11: Integrating Educational Software
Choosing the Right Software
Benefits of Problem-Solving Software
Benefits of Educational Software
Software Evaluation
Software Evaluation Criteria
Software Reviews
Teacher-Conducted Software Evaluation
Using NTeQ to Integrate Problem-Solving and Educational Software
Five Key Components
Meaningful Integration
Chapter 12: Teacher, Technology and the Classroom
The Technologically Competent Teacher
National Educational Technology Standards for Teachers
Preparing to Implement a Technology Lesson
Preparing Handouts
Preparing Technology
Managing Student Use of Computers
Managing the Classroom Environment
Managing the Rotation
Managing Student Activities
Managing the ResourcesP