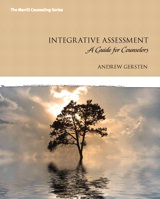 Description
For helping professional practitioners and students in training, and those preparing for licensure
Using a case study approach—in a practitioner's voice—this practical guide helps beginning and future counselors understand and use various effective assessment methods, from interviewing and observing to tests and counselor- and client-friendly standardized measures.
Here is valuable assessment information and guidance which emerging helping professionals can apply to various mental health, school, community, and organizational settings. Using a case study approach and written in a practitioner's voice, the book includes a variety of topics not found, or minimally covered in current counseling assessment textbooks: the risks and resources approach to assessment, interviewing principles and methods, exploring presenting problems and readiness for change, informal and formal observations, assessing the therapeutic alliance; standardized risk assessments, dangerousness to self and others, and assessing substance use.
Based on the premise that assessment is an on-going information gathering process that relies on multiple methods and sources for making decisions or answering a question, this guide takes a balanced, comprehensive approach that looks at much more than the traditional coverage of assessment alone. Three chapters detail the most commonly used assessment methods—interviewing and observing—and the author describes the traditional tests and measurement concepts of reliability and validity. Also unique to this guide are its detailed descriptions of, and applications for, standardized measures which readers can use immediately to administer, score, and interpret.
Table of Contents
Chapter 1:
Introduction to Psychological Assessment
Chapter 2: Ethical and Legal Considerations: Preparing for the Assessment
Chapter 3: Interviewing adults and youth: Principles, Methods and Skills
Chapter 4: Exploring Presenting Problems, Readiness for Change, and Risks and Resources
Chapter 5: Observations, Inferences, and Behavioral Assessment
Chapter 6: Psychological Tests and Measurement Concepts
Chapter 7: Reliability and Validity
Chapter 8: Personality and Interest Measures
Chapter 9: Assessing Psychopathology: Mood and Anxiety Disorders
Chapter 10: Child and adolescent measures

Chapter 11: Standardized Risk Assessments: Suicide and Dangerousness to Others
Chapter 12: Assessing Substance Use Disorders
Chapter 13: Assessment of Intellectual and Cognitive Abilities and Achievement
Chapter 14: Assessing the Therapeutic Alliance
Chapter15: Putting it All Together

Purchase Info ?
With CourseSmart eTextbooks and eResources, you save up to 60% off the price of new print textbooks, and can switch between studying online or offline to suit your needs.
Once you have purchased your eTextbooks and added them to your CourseSmart bookshelf, you can access them anytime, anywhere.
Buy Access
Integrative Assessment: A Guide for Counselors, CourseSmart eTextbook
Format: Safari Book
$42.99 | ISBN-13: 978-0-13-503494-1