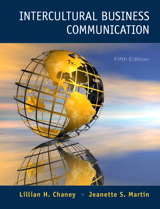 Description
For courses in Intercultural Business Communication.

Prepare future managers to face the differences in business communication across cultures.

With the globalization of the world economy, it is imperative for current and future managers to be sensitive to the differences they will encounter in intercultural communication. To help make students aware of these differences, Intercultural Business Communication contains practical guidelines and information on how to conduct negotiations across countries, write business letters in different societies, and includes the general "dos" and "don'ts" in international business.

The fifth edition contains new cases, updated examples, and information from ten newly published books and journal articles.

Table of Contents
Chapter 1: The Nature of Intercultural Communication
Chapter 2: Universal Systems
Chapter 3: Contrasting Cultural Values
Chapter 4: Cultural Shock
Chapter 5: Language
Chapter 6 Oral and Nonverbal Communication Patterns
Chapter 7: Written Communication
Chapter 8: Global Etiquette
Chapter 9: Business and Social Customs
Chapter 10: Intercultural Negotiation Process
Chapter 11: Intercultural Negotiation Components
Chapter 12: Laws Affecting International Business and Travel


Purchase Info ?
With CourseSmart eTextbooks and eResources, you save up to 60% off the price of new print textbooks, and can switch between studying online or offline to suit your needs.
Once you have purchased your eTextbooks and added them to your CourseSmart bookshelf, you can access them anytime, anywhere.
Buy Access
Intercultural Business Communication, CourseSmart eTextbook, 5th Edition
Format: Safari Book
$48.99 | ISBN-13: 978-0-13-212791-2