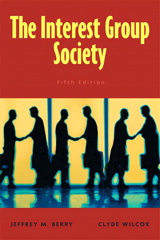 Description
Considered the gold standard on interest group politics, this widely-used text analyzes interest groups within the intuitive framework of democratic theory, enabling students to understand the workings of interest groups within the larger context of our political system. Comprehensive coverage includes not only the traditional farm, labor, and trade associations, but also citizen groups, public interest organizations, corporations, and public interest firms.
Brief in page count yet comprehensive in coverage, the book is flexible for different class settings. The book's rich content and lean size allows it to stand alone as the centerpiece of a course, or be assigned as one of several texts.
Table of Contents
Preface

Chapter 1
Madison's Dilemma
Curing the Mischiefs of Faction
Interest Groups and Their Functions
The Rise and Fall of Pluralism
Pluralism as a Goal
Conclusion

Chapter 2
The Advocacy Explosion
The Interest Group Spiral
The Rise of Citizen Groups
Business Fights Back
Conclusion

Chapter 3
The Party Connection
The Advantages of Interest Groups
Working Together
Parties and PACs
Keeping Parties Straight and True
Conclusion

Chapter 4
Mobilization and Organization
Competing Theories
Supply of Benefits
Marketing Interest Groups: Direct Mail
Maintaining the Organization
Who Governs?
Making Decisions
Conclusion

Chapter 5
Lobbyists
A Day in the Life of a Lobbyist
Effective Lobbying
Lobbying as a Career
Lobbyists for Hire
Conclusion

Chapter 6
Public Opinion and
Grassroots Lobbying
Lobbying for Values
Educating the Public
Think Tanks
Demonstrations and Histrionics
Direct Citizen Lobbying
High-Tech Lobbying
Conclusion

Chapter 7
Political Action Committees
Movement for Reform
PACs and Political Finance
Does Money Matter?
Targeting and Cooperation
Conclusion

Chapter 8
Washington Lobbying
Congress
Executive Branch
The Courts
Strategic Decision Making
Conclusion

Chapter 9
The Rise of Issue Networks
Coalitions: EverdayPolitics
From Subgovernments to Issue Networks
The Qualities of Issue Networks
The Telecommunications Network
Conclusion

Chapter 10
Bias and Representation
Corporate Wealth and Political Advocacy
A Special Relationship
Beyond Business
Reform

Bibliography
Index
Purchase Info ?
With CourseSmart eTextbooks and eResources, you save up to 60% off the price of new print textbooks, and can switch between studying online or offline to suit your needs.
Once you have purchased your eTextbooks and added them to your CourseSmart bookshelf, you can access them anytime, anywhere.
Buy Access
Interest Group Society, The, CourseSmart eTextbook, 5th Edition
Format: Safari Book
$38.99 | ISBN-13: 978-0-205-65056-9