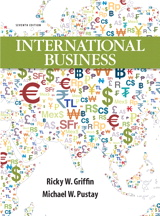 Description
International Business
illustrates how successful managers must function in a competitive world. Packed with current examples that reflect the vibrancy of the international business field, this reader-friendly text offers a managerial approach that keeps an emphasis on skills development, emerging markets and geographical literacy.
Table of Contents
Part 1: The World's Marketplaces
Chapter 1: An Overview of International Business
Chapter 2: Global Marketplaces and Business Centers
Chapter 3: Legal, Technological, Accounting, and Political Environments
Chapter 4: The Role of Culture
Chapter 5: Ethics and Social Responsibility in International Business
Part 2: The International Environment
Chapter 6: International Trade and Investment
Chapter 7: The International Monetary System and the Balance of Payments
Chapter 8: Foreign Exchange and International Financial Markets
Chapter 9: Formulation of National Trade Policies
Chapter 10: International Cooperation Among Nations
Part 3: Managing International Business
Chapter 11: International Strategic Management
Chapter 12: Strategies for Analyzing and Entering Foreign Markets
Chapter 13: International Strategic Alliances
Chapter 14: International Organization Design and Control
Chapter 15: Leadership and Employee Behavior in International Business
Part 4: Managing International Business Operations
Chapter 16: International Marketing
Chapter 17: International Operations Management
Chapter 18: International Financial Management
Chapter 19: International Human Resource Management and Labor Relations
Purchase Info
ISBN-10: 0-13-266787-8
ISBN-13: 978-0-13-266787-6
Format: Alternate Binding
Digital Choices ?
MyLab & Mastering with Pearson eText is a complete digital substitute for a print value pack at a lower price.
MyLab & Mastering ?
MyLab & Mastering products deliver customizable content and highly personalized study paths, responsive learning tools, and real-time evaluation and diagnostics. MyLab & Mastering products help move students toward the moment that matters most—the moment of true understanding and learning.
+ Other Options