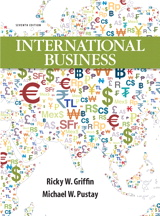 Description
International Business
illustrates how successful managers must function in a competitive world. Packed with current examples that reflect the vibrancy of the international business field, this reader-friendly text offers a managerial approach that keeps an emphasis on skills development, emerging markets and geographical literacy.
Table of Contents
Part 1: The World's Marketplaces
Chapter 1: An Overview of International Business
Chapter 2: Global Marketplaces and Business Centers
Chapter 3: Legal, Technological, Accounting, and Political Environments
Chapter 4: The Role of Culture
Chapter 5: Ethics and Social Responsibility in International Business
Part 2: The International Environment
Chapter 6: International Trade and Investment
Chapter 7: The International Monetary System and the Balance of Payments
Chapter 8: Foreign Exchange and International Financial Markets
Chapter 9: Formulation of National Trade Policies
Chapter 10: International Cooperation Among Nations
Part 3: Managing International Business
Chapter 11: International Strategic Management
Chapter 12: Strategies for Analyzing and Entering Foreign Markets
Chapter 13: International Strategic Alliances
Chapter 14: International Organization Design and Control
Chapter 15: Leadership and Employee Behavior in International Business
Part 4: Managing International Business Operations
Chapter 16: International Marketing
Chapter 17: International Operations Management
Chapter 18: International Financial Management
Chapter 19: International Human Resource Management and Labor Relations
This title is also sold in the various packages listed below. Before purchasing one of these packages, speak with your professor about which one will help you be successful in your course.
Package ISBN-13: 9780132952828
Includes this title packaged with:
Market Entry Strategy Project Access Code Card, 4th Edition
. . Pearson Education
$260.00 | Add to Cart
Purchase Info
ISBN-10: 0-13-266787-8
ISBN-13: 978-0-13-266787-6
Format: Alternate Binding
Digital Choices ?
MyLab & Mastering with Pearson eText is a complete digital substitute for a print value pack at a lower price.
MyLab & Mastering ?
MyLab & Mastering products deliver customizable content and highly personalized study paths, responsive learning tools, and real-time evaluation and diagnostics. MyLab & Mastering products help move students toward the moment that matters most—the moment of true understanding and learning.
+ Other Options
eTextbook ?
With CourseSmart eTextbooks and eResources, you save up to 60% off the price of new print textbooks, and can switch between studying online or offline to suit your needs.
Once you have purchased your eTextbooks and added them to your CourseSmart bookshelf, you can access them anytime, anywhere.