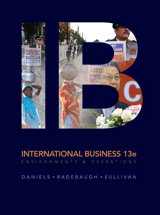 Description
For undergraduate and graduate International Business courses.

An effective balance between authoritative theory and meaningful practice.

International Business is an authoritative and engaging voice on conducting business in international markets. This text not only describes the ideas of international business but it also uses contemporary examples, scenarios, and cases to help students effectively put theory into practice.

For this edition, the authors have continued their unconditional effort to improve and update the text to reflect the latest knowledge and practices in international business management.


Table of Contents
PART ONE: Background for International Business
1. Globalization and International Business
PART TWO: Comparative Environmental Frameworks
2. The Cultural Environments Facing Business
3. The Political and Legal Environments Facing Business
4. The Economic Environments Facing Businesses
5. Globalization and Society
PART THREE: Theories and Institutions: Trade and Investment
6. International Trade and Factor-Mobility Theory
7. Governmental Influence on Trade
8. Cross-National Cooperation and Agreements
PART FOUR: World Financial Environment
9. Global Foreign-Exchange Markets
10. The Determination of Exchange Rates
PART FIVE: Global Strategy, Structure, and Implementation
11. The Strategy of International Business
12. Country Evaluation and Selection
13. Export and Import Strategies
14. Direct Investment and Collaborative Strategies
15. The Organization of International Business
PART SIX: Managing International Operations
16. Marketing Globally
17. Global Manufacturing and Supply Chain Management
18. International Accounting Issues
19. The Multinational Finance Function
20. Human Resource Management



Purchase Info ?
With CourseSmart eTextbooks and eResources, you save up to 60% off the price of new print textbooks, and can switch between studying online or offline to suit your needs.
Once you have purchased your eTextbooks and added them to your CourseSmart bookshelf, you can access them anytime, anywhere.
Buy Access
International Business, CourseSmart eTextBook, 13th Edition
Format: Safari Book
$97.80 | ISBN-13: 978-0-13-212850-6