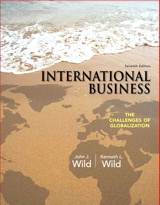 Description
MARKET: Directed primarily toward undergraduate International Business majors, this text also provides practical content for future industry professionals.
A readable, concise, and innovative tour through international business,this textpresents the subject matter in a comprehensive – yet succinct – framework. Real-world examples and engaging features bring concepts to life and make international business accessible to all.
The Seventh Edition better explains the influence of the global credit crisis and recent recession on international business, and even more fully embraces the crucial role of emerging markets in today's global economy.
Table of Contents
I. GLOBAL BUSINESS ENVIRONMENT
1. Globalization
II. NATIONAL BUSINESS ENVIRONMENTS
2. Cross-Cultural Business
3. Politics, Law, and Business Ethics
4. Economics and Emerging Markets
III. INTERNATIONAL TRADE AND INVESTMENT
5. International Trade
6. Business—Government Trade Relations
7. Foreign Direct Investment
8. Regional Economic Integration
IV. THE INTERNATIONAL FINANCIAL SYSTEM
9. International Financial Markets
10. International Monetary System
V. INTERNATIONAL BUSINESS MANAGEMENT
11. International Strategy and Organization
12. Analyzing International Opportunities
13. Selecting and Managing Entry Modes
14. Developing and Marketing Products
15. Managing International Operations
16. Hiring and Managing Employees
Notes
Glossary
Name/Company Index
Subject Index
Enhance your learning experience with text-specific study materials.
Purchase Info
Digital Choices ?
MyLab & Mastering with Pearson eText is a complete digital substitute for a print value pack at a lower price.
MyLab & Mastering ?
MyLab & Mastering products deliver customizable content and highly personalized study paths, responsive learning tools, and real-time evaluation and diagnostics. MyLab & Mastering products help move students toward the moment that matters most—the moment of true understanding and learning.
+ Other Options
eTextbook ?
With CourseSmart eTextbooks and eResources, you save up to 60% off the price of new print textbooks, and can switch between studying online or offline to suit your needs.
Once you have purchased your eTextbooks and added them to your CourseSmart bookshelf, you can access them anytime, anywhere.
Print Choices
Loose Leaf Version ?
Books a la Carte are less-expensive, loose-leaf versions of the same textbook.