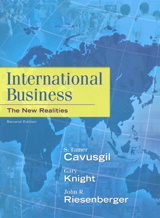 Description
An innovative and engaging learning system for International Business.
Based on the authors' collective teaching and working experience–as well as discussions with hundreds of practitioners, students, and faculty–International Business: The New Realities is a complete learning system that seamlessly integrates cases, exercises, and videos.
To reflect the major changes that have occurred in the global marketplace–due to the financial crisis, and change in dynamic among international business participants–this edition now includes extensive new and updated material.
Note: This is the standalone book, if you want the book/DVD package order the ISBN below
0132655446 / 9780132655446 International Business: The New Realities & International Business 2011 Video Library DVD Package
Package consists of:
0136090737 / 9780136090731 International Business 2011 Video Library
0136090982 / 9780136090984 International Business: The New Realities
Table of Contents
Part 1: Foundation Concepts
Chapter 1. Introduction: What Is International Business?
Chapter 2. Globalization of Markets and the Internationalization of the Firm
Chapter 3. Organizational Participants that Make International Business Happen
Part 2: The Environment of International Business
Chapter 4. The Cultural Environment of International Business
Chapter 5. Ethics and International Business
Chapter 6. Theories of International Trade and Investment
Chapter 7. Political and Legal Systems in National Environments
Chapter 8. Government Intervention in International Business
Chapter 9. Regional Economic Integration
Chapter 10. Emerging Markets, Developing Economies, and Advanced Economies
Chapter 11. The International Monetary and Financial Environment
Part 3: Strategy and Opportunity Assessment
Chapter 12. Strategy and Organization in the International Firm
Chapter 13. Global Market Opportunity Assessment
Part 4: Entering and Operating in International Markets
Chapter 14. Exporting and Countertrade
Chapter 15. Foreign Direct Investment and Collaborative Ventures
Chapter 16. Licensing, Franchising, and Other Contractual Strategies
Chapter 17. Global Sourcing
Part 5: Functional Area Excellence
Chapter 18. Marketing in the Global Firm
Chapter 19. Human Resource Management in the Global Firm
Chapter 20. Financial Management and Accounting in the Global Firm
Purchase Info
ISBN-10: 0-13-609098-2
ISBN-13: 978-0-13-609098-4
Format: Alternate Binding
Digital Choices ?
MyLab & Mastering with Pearson eText is a complete digital substitute for a print value pack at a lower price.
MyLab & Mastering ?
MyLab & Mastering products deliver customizable content and highly personalized study paths, responsive learning tools, and real-time evaluation and diagnostics. MyLab & Mastering products help move students toward the moment that matters most—the moment of true understanding and learning.
+ Other Options
eTextbook ?
With CourseSmart eTextbooks and eResources, you save up to 60% off the price of new print textbooks, and can switch between studying online or offline to suit your needs.
Once you have purchased your eTextbooks and added them to your CourseSmart bookshelf, you can access them anytime, anywhere.