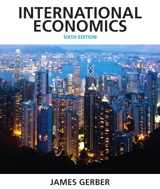 Description
¿
A principles-level introduction to international economics that is accessible to all majors. This book is also suitable for readers interested in the field of international economics.
¿
International Economics uses a rich array of case studies to illuminate economic institutions and policies as well as recent developments in the global economy—without readers having to rely on a prerequisite knowledge of higher-level math. Further, the book's flexible approach—with self-contained chapters and comprehensive coverage—allows instructors to adapt the text easily to a wide range of syllabi.
The sixth edition preserves the organization and coverage of the fifth edition and adds a number of updates and enhancements. All tables and graphs have been updated and every chapter begins with a list of student learning outcomes. Chapter 13, The United States in the World Economy, is heavily revised and refocused towards U.S. international economic relations, including NAFTA, but adds material on other trade agreements, including a new case study on preferential agreements such as the African Growth and Opportunity Act.
Available with the award-winning MyEconLab!
MyEconLab is a powerful assessment and tutorial system that works hand-in-hand with International Economics.¿MyEconLab includes comprehensive homework, quiz, test, and tutorial options, where instructors can manage all assessment needs in one program!¿
¿
Note: If you are purchasing the standalone text (ISBN: 0132948915) or electronic version, MyEconLab does not come automatically packaged with the text. To purchase MyEconLab, please visit: www.myeconlab.com or you can purchase a package of the physical text + MyEconLab by searching the Pearson Higher Education web site. MyEconLab is not a self-paced technology and should only be purchased when required by an instructor.
Table of Contents
I. INTRODUCTION AND INSTITUTIONS
1. The United States in a Global Economy
Introduction: International Economic Integration
Elements of International Economic Integration
Twelve Themes in International Economics
Vocabulary
Study Questions
2. International Economic Institutions since World War II
Introduction: International Institutions and Issues since World War II
The IMF, the World Bank, and the WTO
Regional Trade Agreements
The Role of International Economic Institutions
Criticism of International Institutions Summary
Vocabulary
Study Questions
II INTERNATIONAL TRADE
3. Comparative Advantage and the Gains from Trade
Introduction: The Gains from Trade
Comparative Productivity Advantage and the Gains from Trade
Absolute and Comparative Productivity Advantage Contrasted
Gains from Trade with No Absolute Advantage
Comparative Advantage and "Competitiveness"
Economic Restructuring
Summary
Vocabulary
Study Questions
4. Comparative Advantage and Factor Endowments
Introduction: The Determinants of Comparative Advantage
Modern Trade Theory
Trade and Income Distribution
Empirical Tests of the Theory of Comparative Advantage
Extension of the Heckscher-Ohlin Model
The Impact of Trade on Wages and Jobs
Summary
Vocabulary
Study Questions
5. Beyond Comparative Advantage
Introduction: More Reasons to Trade
Intraindustry Trade
Trade and Geography
Industrial Policy
Summary
Vocabulary
Study Questions
6. The Theory of Tariffs and Quotas
Introduction: Tariffs and Quotas
Analysis of Quotas
Summary
Vocabulary
Study Questions
7. Commercial Policy
Introduction: Commercial Policy, Tariffs, and Arguments for Protection
Why Nations Protect Their Industries
The Politics of Protection in the United States
Summary
Vocabulary
Study Questions
8. International Trade and Labor and Environmental Standards
Introduction: Income and Standards
Setting Standards: Harmonization, Mutual Recognition, or Separate?
Labor Standards
Trade and the Environment
Alternatives to Trade Measures
Summary
Vocabulary
Study Questions
III. INTERNATIONAL FINANCE
9. Trade and the Balance of Payments
Introduction: The Current Account
The Current Account and the Macro economy
International Debt
The International Investment Position
Summary
Vocabulary
Study Questions
Appendix A Measuring the International Investment Position
Appendix B Balance of Payments Data
10. Exchange Rates and Exchange Rate Systems
Introduction: Fixed, Flexible, or In-Between?
Exchange Rates and Currency Trading
The Supply and Demand for Foreign Exchange
The Real Exchange Rate
Alternatives to Flexible Exchange Rates
Fixed Exchange Rate Systems
Choosing the Right Exchange Rate System
Single Currency Areas
Summary
Vocabulary
Study Questions
Appendix The Interest Rate Parity Condition
11. An Introduction to Open Economy Macroeconomics
Introduction: The Macroeconomy in a Global Setting
Aggregate Demand and Aggregate Supply
Fiscal and Monetary Policies
Current Account Balances Revisited
Macro Policies for Current Account Imbalances
Macroeconomic Policy Coordination in Developed Countries
Summary
Vocabulary
Study Questions
12. International Financial Crises
Introduction: The Challenge to Financial Integration
Definition of a Financial Crisis
Sources of International Financial Crises
Domestic Issues in Crisis Avoidance
Domestic Policies for Crisis Management
Reform of the International Financial Architecture
Summary
Vocabulary
Study Questions
IV. REGIONAL ISSUES IN THE GLOBAL ECONOMY
13. The United States in the World Economy
Introduction: A New World Economy
Background and Context
The NAFTA Model
New and Old Agreements
Summary
Vocabulary
Study Questions
14. The European Union: Many Markets into One
Introduction: The European Union
The Size of the European Market
The European Union and Its Predecessor
Deepening and Widening the Community in the 1970s and 1980s
The Second Wave of Deepening: The Single European Act
The Third Wave of Deepening: The Maastricht Treaty
Monetary Union and the Euro
Widening the European Union
The Demographic Challenge of the Future
Summary
Vocabulary
Study Questions
15. Trade and Policy Reform in Latin America
Introduction: Defining a "Latin American" Economy
Population, Income, and Economic Growth
Import Substitution Industrialization
Macroeconomic Instability and Economic Populism
The Debt Crisis of the 1980s
Neoliberal Policy Reform and the "Washington Consensus"
Summary
Vocabulary
Study Questions
16. Export-Oriented Growth in East Asia
Introduction: The High-Performance Asian Economies
Population, Income, and Economic Growth
General Characteristics of Growth in the HPAE
The Institutional Environment
The Role of Industrial Policies
The Role of Manufactured Exports
Is There an Asian Model of Economic Growth?
Summary
Vocabulary
Study Questions
17. The BRIC Countries in the World Economy
Introduction: The BRICs
Demographic and Economic Characteristics
Economic reform in the BRIC economies
The BRICs in the World Economy
The Challenges of the BRICs in the World Economy
Summary
Vocabulary
Study Questions
This title is also sold in the various packages listed below. Before purchasing one of these packages, speak with your professor about which one will help you be successful in your course.
Purchase Info
Digital Choices ?
MyLab & Mastering with Pearson eText is a complete digital substitute for a print value pack at a lower price.
MyLab & Mastering ?
MyLab & Mastering products deliver customizable content and highly personalized study paths, responsive learning tools, and real-time evaluation and diagnostics. MyLab & Mastering products help move students toward the moment that matters most—the moment of true understanding and learning.
+ Other Options
eTextbook ?
With VitalSource eTextbooks, you save up to 60% off the price of new print textbooks, and can switch between studying online or offline to suit your needs.
Access your course materials on iPad, Android and Kindle devices with VitalSource Bookshelf, the textbook e-reader that helps you read, study and learn brilliantly. Features include:
See all of your eTextbooks at a glance and access them instantly anywhere, anytime from your Bookshelf - no backpack required.
Multiple ways to move between pages and sections including linked Table of Contents and Search make navigating eTextbooks a snap.
Highlight text with one click in your choice of colors. Add notes to highlighted passages. Even subscribe to your classmates' and instructors' highlights and notes to view in your book.
Scale images and text to any size with multi-level zoom without losing page clarity. Customize your page display and reading experience to create a personal learning experience that best suits you.
Print only the pages you need within limits set by publisher
Supports course materials that include rich media and interactivity like videos and quizzes
Easily copy/paste text passages for homework and papers
Supports assistive technologies for accessibility by vision and hearing impaired users
Print Choices
Loose Leaf Version ?
Books a la Carte are less-expensive, loose-leaf versions of the same textbook.