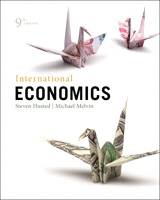 Description
For students taking a course in International Economics.

Capture students' attention with the issues and real data of today's most recent policy controversies.

International Economics is an accessible, comprehensive and relevant guide for studying international economics. Using real data and issues that motivate theoretical discussions, this text captures students' attention and equips them with a practical understanding of major policy questions.
Table of Contents
Chapter 1: An Introduction to International Trade
Chapter 2: Tools of Analysis for International Trade Models
Chapter 3: The Classical Model of International Trade
Chapter 4: The Heckscher-Ohlin Model
Chapter 5: Tests of Trade Models: the Leontief Paradox and Its Aftermath
Chapter 6: Tariffs
Chapter 7: Nontariff Barriers and Arguments for Protection
Chapter 8: Commercial Policy: History and Practice
Chapter 9: Preferential Trade Agreements
Chapter 10: International Trade and Economic Growth
Chapter 11: The Balance of Payments
Chapter 12: The Foreign Exchange Market
Chapter 13: International Monetary Systems
Chapter 14: Exchange Rates in the Short Run
Chapter 15: Exchange Rates in the Long Run
Chapter 16: Theories of the Current Account Balance
Chapter 17: Open Economy Macroeconomics
Chapter 18: International Banking, Debt and Risk
Purchase Info ?
With CourseSmart eTextbooks and eResources, you save up to 60% off the price of new print textbooks, and can switch between studying online or offline to suit your needs.
Once you have purchased your eTextbooks and added them to your CourseSmart bookshelf, you can access them anytime, anywhere.
Buy Access
International Economics, CourseSmart eTextbook, 9th Edition
Format: Safari Book
$110.99 | ISBN-13: 978-0-13-276954-9