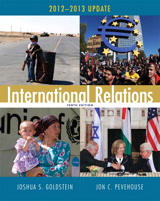 Description
Thoroughly updated to cover world affairs through 2012, International Relations is praised for being the most current and comprehensive introduction to international relations theory as well as security, economic, and global issues.
From war and trade to human rights and the environment, this survey explores relations among states and the influence of transnational actors and events. Applying a broad range of theoretical perspectives to show students how to analyze current events, International Relations offers the best tools for understanding what is happening in the world today.
Teaching and Learning Experience
Personalize Learning: MyPoliSciLab delivers proven results in helping students succeed, provides engaging experiences that personalize learning, and comes from a trusted partner with educational expertise and a deep commitment to helping students and instructors achieve their goals.

Explore Concepts and Current Events: Drawing on recent political events from Europe's sovereign debt crisis to the U.S. withdrawal from Iraq, this text provides a balanced survey of security, economic, and transnational issues and covers a diverse range of theoretical perspectives.

Improve Critical Thinking: Seeking the Collective Good, Policy Perspectives, and Let's Debate the Issues boxes helps students apply international relations theory to current world problems.

Engage Students: A four-color design and numerous figures, maps, and photos offer a current and lively reading experience.

Emphasize Learning Outcomes: In MyPoliSciLab, study plans based on book-specific learning objectives give students follow-up reading, video, and multimedia activities for further practice.

Instructor Support: An instructor's manual, test bank, and PowerPoint presentation provide more teaching resources. In MyPoliSciLab, ClassPrep collects class presentation resources in one convenient online destination.
MyPoliSciLab does not come automatically packaged with this text. To purchase MyPoliSciLab, please visit: www.mypoliscilab.com.
Table of Contents
Chapter 1. The Globalization of International Relations
Chapter 2. Realist Theories
Chapter 3. Liberal and Social Theories
Chapter 4. Foreign Policy
Chapter 5. International Conflict
Chapter 6. Military Force and Terrorism
Chapter 7. International Organization, Law, and Human Rights
Chapter 8. International Trade
Chapter 9. Global Finance and Business
Chapter 10. International Integration
Chapter 11. Environment and Population
Chapter 12. The North-South Gap
Chapter 13. International Development
Chapter 14. Postscript
Purchase Info ?
With CourseSmart eTextbooks and eResources, you save up to 60% off the price of new print textbooks, and can switch between studying online or offline to suit your needs.
Once you have purchased your eTextbooks and added them to your CourseSmart bookshelf, you can access them anytime, anywhere.
Buy Access
International Relations 2012-213 Update, CourseSmart eTextbook, 10th Edition
Format: Safari Book
$60.99 | ISBN-13: 978-0-205-87548-1