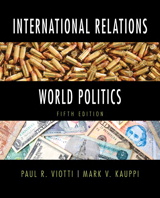 Description
Drawn from the authors' experience as scholars and practitioners, International Relations and World Politics is a toolkit that offers an authoritative survey of the field and practical ways to analyze current and future world problems.
This new edition was completely rewritten to focus on an enduring teaching and learning goal—how individuals can apply theory, history, geography, and more for a lifetime of understanding politics in a globalized world. Whether as actors themselves in world politics, participants in the global economy, or simply readers of world news, students reading International Relations and World Politics not only get more help to master the field's concepts but also get more help to understand that these are real-world ideas with real-world implications.
MyPoliSciLab does not come automatically packaged with this text. To purchase MyPoliSciLab, please visit: www.mypoliscilab.com.
Table of Contents
Chapter 1. Engaging International Relations and World Politics
Chapter 2. Theory
Chapter 3.History
Chapter 4. Geography
Chapter 5. Globalization
Chapter 6. Power
Chapter 7. Diplomacy & Foreign Policy
Chapter 8. International Organizations & International Law
Chapter 9. Interstate Conflict
Chapter 10. Asymmetrical Conflict
Chapter 11. Trade and Money
Chapter 12. Development
Chapter 13. Human Rights
Chapter 14. Global Environment
Purchase Info ?
With CourseSmart eTextbooks and eResources, you save up to 60% off the price of new print textbooks, and can switch between studying online or offline to suit your needs.
Once you have purchased your eTextbooks and added them to your CourseSmart bookshelf, you can access them anytime, anywhere.
Buy Access
International Relations and World Politics, CourseSmart eTextbook, 5th Edition
Format: Safari Book
$58.99 | ISBN-13: 978-0-205-86480-5