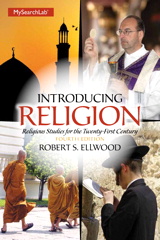 Description
Introducing Religion, 4/e explores the different ways of looking at religion in the twenty-first century. A broad overview to religious studies as a discipline introduces students to the various subjects of religion. Introducing Religion teaches readers how to think in academic religious studies and its main areas, including: sociology of religion, psychology of religion, history of religion, religion and art, ethics, and more.
The fourth edition has been expanded with new chapters exploring topics of contemporary interest: myth, spiritual paths, religion and popular culture, religion in the computer age, religion and war. Contemporary topics engage today¿s students, relating the topics to the changing world around them.

Table of Contents
Chapter 1. How to Study Religion
Chapter 2. History of Religion on Planet Earth
Chapter 3. Myth: Our Lives, and the World's, Are Stories
Chapter 4. Magic Doorways: Symbol, Rite, and Religion
Chapter 5. Oases of the Mind: The Psychology of Religion
Chapter 6. Inner Adventure: The Spiritual Path, the Way of Faith
Chapter 7. Why Evil?
Chapter 8. Faith through Form: Religion and Art
Chapter 9. Ghost Marriages and Country Music: Popular Religion
Chapter 10. Cyberaltars: Religion in the Computer Age
Chapter 11. Traveling Together: The Sociology of Religion
Chapter 12. Truth Messages: The Conceptual Expression of Religion
Chapter 13. Worlds to Come: Religious Eschatology and the Afterlife
Chapter 14. How Shall We Live? Religion and Ethics
Chapter 15. Horror and Glory: Religion Confronting War
Purchase Info
ISBN-10: 0-205-98759-1
ISBN-13: 978-0-205-98759-7
Format: Book
This publication is not currently for sale.