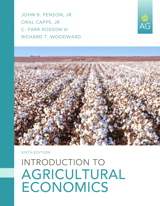 Description
For courses in Introduction to Agricultural or Applied Economics
Introduction to Agricultural Economics, Sixth Edition, provides students with a systematic introduction to the basic economic concepts and issues impacting the U.S. food and fiber industry and offers strong coverage of macroeconomic theory and international trade. The Teaching and Learning Package includes an Instructor's Manual and PowerPoint slides.
Teaching and Learning Experience:
Strong coverage of macroeconomics, the role of government, and international agricultural trade: The coverage of macroeconomics and agricultural programs and policies allows students to further understand the domestic market economy.
Building block approach: Discusses individual consumer and producer decision-making, market equilibrium and economic welfare conditions, government intervention in agriculture, macroeconomic policy, and international trade.
Extensive chapter review: Each chapter contains an extensive list of questions designed to test student comprehension of the material covered.
Table of Contents
Part One: Introduction
1. What is Agricultural Economics?
2. The U.S. Food and Fiber Industry
Part Two: Understanding Consumer Behavior
3. Theory of Consumer Behavior
4. Consumer Equilibrium and Market Demand
5. Measurement and Interpretation of Elasticities
Part Three: Business Behavior and Market Equilibrium
6. Introduction to Production and Resource Use
7. Economics of Input and Product Substitution
8. Market Equilibrium and Product Price: Perfect Competition
9. Market Equilibrium and Product Price: Imperfect Competition
Part Four: Government in the Food and Fiber Industry
10. Natural Resources, the Environment, and Agriculture
11. Government Intervention in Agriculture
Part Five: Macroeconomics of Agriculture
12. Product Markets and National Output
13. Macroeconomic Policy Fundamentals
14. Consequences of Business Fluctuations
15. Macroeconomic Policy and Agriculture
Past Six: International Agricultural Trade
16. Agricultural Trade and Exchange Rates
17. Why Nations Trade
18. Agricultural Trade Policy and Preferential Trading Arrangements
Glossary
Index
Purchase Info ?
With CourseSmart eTextbooks and eResources, you save up to 60% off the price of new print textbooks, and can switch between studying online or offline to suit your needs.
Once you have purchased your eTextbooks and added them to your CourseSmart bookshelf, you can access them anytime, anywhere.
Buy Access
Introduction to Agricultural Economics, CourseSmart eTextbook, 6th Edition
Format: Safari Book
$71.99 | ISBN-13: 978-0-13-337954-9