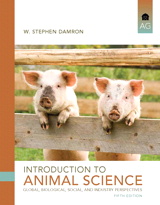 Description
Introduction to Animal Science: Global, Biological, Social, and Industry Perspectives, Fifth Edition,features the most comprehensive, up-to-date coverage of the traditional disciplines that are so essential to a solid foundation in Animal Science: nutrition, digestion, feeds, genetics, reproduction, disease, and animal behavior. The text's comprehensive, non-traditional approach introduces the discipline as an ever-changing, integral part of every aspect of human existence. Author W. Stephen Damron not only presents thorough coverage of the major species and their respective concerns, he challenges you to consider the many pressing interests relevant to Animal Science as it influences and is influenced by society today.
Table of Contents
PART ONE The Place of Animals and Animal Science in the Lives of Humans
1. Introduction to the Animal Sciences
2. The Value of Animals to Humanity
3. Factors Affecting World Agricultural Structure
4. Worldwide Systems of Agricultural Production
PART TWO The Biological Sciences of Animal Science
5. Introduction to Nutrition
6. The Gastrointestinal Tract and Nutrition
7. Feedstuffs Classification
8. Genetics
9. Animal Breeding
10. Biotechnology and Genetic Engineering
11. Animal Reproduction
12. Lactation
13. Animal Behavior
14. Animal Health
PART THREE The Animal Industries
15. Market Coordination in the Beef, Pork, and Poultry Industries
16. Beef Cattle
17. Dairy Cattle
18. Poultry
19. Swine
20. Sheep and Goats
21. Horses
22. Aquaculture
23. Pet and Companion Animals
24. Lamoids
25. Rabbits
PART FOUR Animals and Society
26. Careers and Career Preparation in the Animal Sciences
27. Food Safety and Consumer Concerns
28. Animal Welfare and Animal Rights
29. Animals in Sustainable Agriculture
Glossary
Index
Purchase Info
Digital Choices ?
MyLab & Mastering with Pearson eText is a complete digital substitute for a print value pack at a lower price.
eTextbook ?
With CourseSmart eTextbooks and eResources, you save up to 60% off the price of new print textbooks, and can switch between studying online or offline to suit your needs.
Once you have purchased your eTextbooks and added them to your CourseSmart bookshelf, you can access them anytime, anywhere.
Print Choices
Loose Leaf Version ?
Books a la Carte are less-expensive, loose-leaf versions of the same textbook.