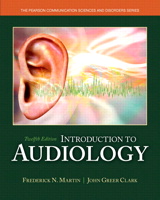 Description
This comprehensive, well-organized introduction to hearing and balance disorders gives students a number of vital tools to help them better understand, retain, and analyze the material. Now available as an interactive eText with a number of accompanying advantages, Introduction to Audiology, 12/e by Martin and Clark continues to update the material to keep content current with recent research, while retaining and improving a user-friendly approach to the topics and an abundance of how-to information which shows the rewarding, fascinating aspects of a career in audiology. This new edition includes 20 video clips interspersed throughout, a variety of interactive test questions, expanded Evolving Case Studies, a list of frequently asked questions, and the use of color to enhance selected illustrations and photographs.
Enhanced Pearson eText. Included in this package is access to the new Enhanced eText exclusively from Pearson. The Enhanced Pearson eText is:
Engaging. Full-color online chapters include dynamic videos that show what course concepts look like in real classrooms, model good teaching practice, and expand upon chapter concepts. Video links, chosen by our authors and other subject-matter experts, are embedded right in context of the content you are reading.

Convenient. Enjoy instant online access from your computer or download the Pearson eText App to read on or offline on your iPad and Android tablets.*

Interactive. Features include embedded video, embedded assessment, note taking and sharing, highlighting and search.

Affordable. Experience all these advantages of the Enhanced eText along with all the benefits of print for 40% to 50% less than a print bound book.
*The Pearson eText App is available for free on Google Play and in the App Store.* Requires Android OS 3.1 – 4, a 7" or 10" tablet or iPad iOS 5.0 or newer
0133783723 / 9780133783728 Introduction to Audiology with Enhanced Pearson eText -- Access Card Package
Package consists of:
013348923X / 9780133489231 Introduction to Audiology, Enhanced Pearson eText -- Access Card
0133491463 / 9780133491463 Introduction to Audiology
Table of Contents
Part I Elements of Audiology
Chapter 1 The Profession of Audiology
Chapter 2 The Human Ear and Simple Tests of Hearing
Chapter 3 Sound and Its Measurement
Part II Hearing Assessment
Chapter 4 Pure-Tone Audiometry
Chapter 5 Speech Audiometry
Chapter 6 Masking
Chapter 7 Physiological Tests of the Auditory System
Chapter 8 Pediatric Audiology
Part III Hearing Disorders
Chapter 9 The Outer Ear
Chapter 10 The Middle Ear
Chapter 11 The Inner Ear
Chapter 12 The Auditory Nerve and Central Auditory Pathways
Chapter 13 Nonorganic Hearing Loss
Part IV Management of Hearing Loss
Chapter 14 Amplification/Sensory Systems
Chapter 15 Audiological Treatment
Purchase Info
Digital Choices
eTextbook ?
With CourseSmart eTextbooks and eResources, you save up to 60% off the price of new print textbooks, and can switch between studying online or offline to suit your needs.
Once you have purchased your eTextbooks and added them to your CourseSmart bookshelf, you can access them anytime, anywhere.
Print Choices
Alternative Options ?
Click on the titles below to learn more about these options.