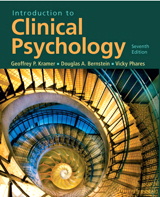 Description
For junior/senior and graduate-level courses in Clinical Psychology.
Designed to provide a thorough survey of the field that is equally accessible to students with a general interest as well as to those with professional aspirations, this text presents a scholarly portrayal of the history, content, professional functions, and the future of clinical psychology.
Table of Contents
Section I: Basic Concepts
Chapter 1 What is Clinical Psychology?
Chapter 2 Clinical Psychology's Past and Present
Section II: Assessment
Chapter 3 Basic Features of Clinical Assessment
Chapter 4 Interviewing and Observation in Clinical Psychology
Chapter 5 Testing in Clinical Psychology
Section III: Clinical Interventions
Chapter 6 Basic Features of Clinical Interventions
Chapter 7 Psychodynamic and Humanistic Psychotherapies
Chapter 8 Behavioral and Cognitive-Behavioral
Chapter 9 Alternative Modes of Clinical Intervention
Chapter 10 Research on Clinical Intervention
Section IV: Some Clinical Specialties
Chapter 11 Clinical Child Psychology
Chapter 12 Health Psychology
Chapter 13 Clinical Neuropsychology
Chapter 14 Forensic Psychology
Section V: The Future of Clinical Psychology and Your Possible Place in It
Chapter 15 Professional Issues in Clinical Psychology
Chapter 16 Getting into Graduate School in Clinical Psychology
Purchase Info ?
With CourseSmart eTextbooks and eResources, you save up to 60% off the price of new print textbooks, and can switch between studying online or offline to suit your needs.
Once you have purchased your eTextbooks and added them to your CourseSmart bookshelf, you can access them anytime, anywhere.
Buy Access
Introduction to Clinical Psychology, CourseSmart eTextbook, 7th Edition
Format: Safari Book
$79.00 | ISBN-13: 978-0-205-64568-8