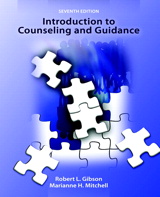 Description
The seventh edition of Gibson & Mitchell's Introduction to Counseling and Guidance retains its logical progression of topics, while introducing the latest technologies, concepts, and applications in the counselor's repertoire. As they have in previous editions, the authors present practical examples and discussions of all of the major facets of counseling in a wide variety of counselors' work settings. They include a thorough treatment of techniques of assessment, including an overview of standardized testing and discussion of subjective approaches to appraisal–observation, self-reporting, and others. And they give the vital topics of program development/management and legal/ethical issues their due, by giving them their own chapters.
Table of Contents
1. Historical Perspectives.
2. What Do Counselors Do?
3. Where Counselors Work.
4. Individual Counseling.
5. Group Techniques for Counselors.
6. Multicultural Counseling.
7. Human Assessment for Counseling.
8. Counseling for Career Planning and Decision Making.
9. The Counselor as Developmental and Educational Consultant.
10. Prevention and Wellness.
11. Counseling Program Development and Management.
12. Counseling and Technology.
13. Ethical and Legal Guidelines.
Purchase Info ?
With CourseSmart eTextbooks and eResources, you save up to 60% off the price of new print textbooks, and can switch between studying online or offline to suit your needs.
Once you have purchased your eTextbooks and added them to your CourseSmart bookshelf, you can access them anytime, anywhere.
Buy Access
Introduction to Counseling and Guidance, CourseSmart eTextbook, 7th Edition
Format: Safari Book
$62.99 | ISBN-13: 978-0-13-501176-8