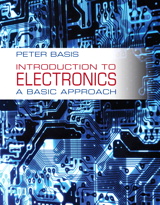 Description
For courses in Introduction to Electronics
Introduction to Electronics: A Basic Approach is designed so that anyone who needs to learn about circuits can pick up the text and start learning right away. Offering easy-to-understand language, the text presents concepts in a simple, step-by-step format, reinforced with ample examples and problems in every chapter. Thoroughly class-tested, the text introduces complex formulas and derivations as necessary, so readers won't be overwhelmed.
Table of Contents
INTRODUCTION TO ELECTRONICS INDUSTRYAND CAREERS
DC (DIRECT CURRENT)
1 INTRODUCTION
2 BASIC ELECTRICAL QUANTITIES
3 OHM'S LAW AND POWER
4 SERIES AND PARALLEL CIRCUITS
5 MORE ON SOURCES
6 SERIES-PARALLEL CIRCUITS
7 BASIC METER CONSTRUCTION
8 NETWORK THEOREMS
9 THE CAPACITOR
10 THE INDUCTOR
11 INTRODUCTION TO SEMICONDUCTORS
AC (ALTERNATING CURRENT)
12 AC WAVEFORMS: BASIC QUANTITIES
13 SERIES AND PARALLEL CIRCUITS IN AC
14 SERIES-PARALLEL CIRCUITS IN AC
15 AC POWER
16 NETWORK THEOREMS IN AC
17 FILTERS AND BODE PLOTS
18 RESONANCE
19 TRANSFORMERS
20 NONSINUSOIDAL WAVEFORMS
21 WIRE AND CABLE
22 TROUBLESHOOTING
Purchase Info ?
With CourseSmart eTextbooks and eResources, you save up to 60% off the price of new print textbooks, and can switch between studying online or offline to suit your needs.
Once you have purchased your eTextbooks and added them to your CourseSmart bookshelf, you can access them anytime, anywhere.
Buy Access
Introduction to Electronics: A Basic Approach, CourseSmart eTextbook
Format: Safari Book
$74.99 | ISBN-13: 978-0-13-302798-3