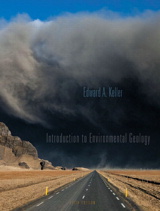 Description
This text focuses on helping non-science majors develop an understanding of how geology and humanity interact. Ed Keller–the author who first defined the environmental geology curriculum–focuses on five fundamental concepts of environmental geology: Human Population Growth, Sustainability, Earth as a System, Hazardous Earth Processes, and Scientific Knowledge and Values. These concepts are introduced at the outset of the text, integrated throughout the text, and revisited at the end of each chapter. The Fifth Edition emphasizes currency, which is essential to this dynamic subject, and strengthens Keller's hallmark "Fundamental Concepts of Environmental Geology," unifying the text's diverse topics while applying the concepts to real-world examples.
CourseSmart textbooks do not include any media or print supplements that may come packaged with the bound book.

Table of Contents
PART ONE Foundations of Environmental Geology
Chapter 1 Philosophy and Fundamental Concepts
Chapter 2 Internal Structure of Earth and Plate Tectonics
Chapter 3 Minerals and Rocks
Chapter 4 Ecology and Geology

PART TWO Earth Processes and Natural Hazards
Chapter 5 Introduction to Natural Hazards
Chapter 6 Earthquakes and Related Phenomena
Chapter 7 Tsunami (new chapter)
Chapter 8 Volcanic Activity
Chapter 9 Rivers and Flooding
Chapter 10 Slope Processes, Landslides, and Subsidence
Chapter 11 Coastal Processes
Chapter 12 Impact of Extraterrestrial Objects

PART THREE Resources and Pollution
Chapter 13 Water Resources
Chapter 14 Water Pollution
Chapter 15 Mineral Resources
Chapter 16 Energy Resources
Chapter 17 Soils and Environment

PART FOUR Environmental Management, Global Perspective, and Society
Chapter 18 Global Climate Change
Chapter 19 Geology, Society, and the Future

Purchase Info ?
With CourseSmart eTextbooks and eResources, you save up to 60% off the price of new print textbooks, and can switch between studying online or offline to suit your needs.
Once you have purchased your eTextbooks and added them to your CourseSmart bookshelf, you can access them anytime, anywhere.
Buy Access
Introduction to Environmental Geology, CourseSmart eTextbook, 5th Edition
Format: Safari Book
$85.99 | ISBN-13: 978-0-321-74136-3