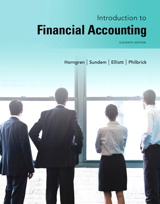 Description
For Introductory Financial Accounting courses at the MBA level, and for rigorous undergraduate courses.

A unique blend of theory, practice, and robust financial statement analysis.

Introduction to Financial Accounting describes the most widely accepted accounting theory and practice with an emphasis on using and analyzing the information in financial statements. This text also compares U.S. GAAP to IFRS where relevant.

Table of Contents
1. Accounting: The Language of Business
2. Measuring Income to Assess Performance
The Portfolio
3. Recording Transactions
4. Accrual Accounting and Financial Statements
5. Statement of Cash Flows
6. Accounting for Sales
7. Inventories and Cost of Goods Sold
8. Long-Lived Assets
9. Liabilities and Interest
10. Stockholders' Equity
11. Intercorporate Investments and Consolidations
12. Financial Statement Analysis
Glossary
Index
Purchase Info ?
With CourseSmart eTextbooks and eResources, you save up to 60% off the price of new print textbooks, and can switch between studying online or offline to suit your needs.
Once you have purchased your eTextbooks and added them to your CourseSmart bookshelf, you can access them anytime, anywhere.
Buy Access
Introduction to Financial Accounting, CourseSmart e Textbook, 11th Edition
Format: Safari Book
$126.99 | ISBN-13: 978-0-13-325106-7