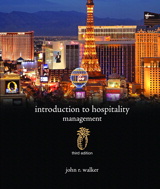 Description
For courses in Introduction to Hospitality and Hospitality Management. Capturing the flavor and breadth of the industry, Introduction to Hospitality Management, Third Edition, explores all aspects of the field including: travel and tourism; lodging; foodservice; meetings, conventions and expositions; and leisure and recreation. Devoting six chapters to management, the text focuses on hospitality and management and uses first-person accounts, corporate profiles and industry morsels to foster a student's appreciation for the field. This new edition includes a new student DVD-ROM and features more on event management, sustainable hospitality, and globalization
.
Table of Contents
Table of Contents
PART I: THE HOSPITALITY INDUSTRY AND TOURISM
1. Welcome to the Hospitality Industry
2. Tourism
PART II: LODGING
3. The Hotel Business
4. Rooms Division Operations
5. Food and Beverage Operations
PART III: RESTAURANTS, MANAGER SERVICES AND BEVERAGES
6. Restaurant Business
7. Restaurant Operations
8. Managed Services
9. Beverages
PART IV: RECREATION, THEME PARKS, CLUBS AND GAMING ENTERTAINMENT
10. Recreation, Theme Parks and Clubs
11. Gaming Entertainment
PART V: ASSEMBLIES AND EVENT MANAGEMENT
12. Meetings, Conventions, Expositions
13. Special Events
PART VI: MANAGERIAL AREAS OF THE HOSPITALITY INDUSTRY
14. Leadership and Management
15. Planning
16. Organizing
17. Communicating and Decision-Making
18. Human Resources and Motivation
19. Control
Purchase Info ?
With CourseSmart eTextbooks and eResources, you save up to 60% off the price of new print textbooks, and can switch between studying online or offline to suit your needs.
Once you have purchased your eTextbooks and added them to your CourseSmart bookshelf, you can access them anytime, anywhere.
Buy Access
Introduction to Hospitality Management, CourseSmart eTextbook, 3rd Edition
Format: Safari Book
$62.99 | ISBN-13: 978-0-13-507339-1