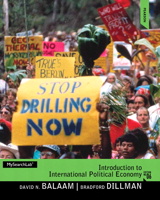 Description
A complete and accessible overview of how politics and economics collide in a global context
This text surveys the theories, institutions, and relationships that characterize international political economy and highlights them in a diverse range of regional and transnational issues. The bestseller in the field, Introduction to International Political Economy positions students to critically evaluate the global economy and to appreciate the personal impact of political, economic, and social forces.
Learning Goals
Upon completing this book, readers will be able to:
Understand the major theoretical perspectives in international political economy

Critically evaluate the global economy
Table of Contents
PART I: PERSPECTIVES ON INTERNATIONAL POLITICAL ECONOMY
Chapter 1: What Is International Political Economy?
Chapter 2: "Laissez-Faire":The Economic Liberal Perspective
Chapter 3: Wealth and Power: The Mercantalist Perspective
Chapter 4: Economic Determinism and Exploitation: The Structuralist Perspective
Chapter 5: Alternative Perspectives on International Political Economy
PART II: STRUCTURES OF INTERNATIONAL POLITICAL ECONOMY
Chapter 6: The Production and Trade Structure
Chapter 7: The International Monetary and Finance Structure
Chapter 8: International Debt and Financial Crises
Chapter 9: The Global Security Strcuture
Chapter 10: The Knowledge and Technology Structure
PART III: STATES AND MARKETS
Chapter 11: The Development Conundrum: Choice Amidst Constraints
Chapter 12: Regionalism: Toward a More Perfect (European) Union
Chapter 13: Moving into Position: The Rising Powers
Chapter 14: The Middle East: The Quest for Development and Democracy
PART IV: TRANSNATIONAL PROBLEMS
Chapter 15: The Illicit Global Economy: The Dark Side of Globalization
Chapter 16: Migration and Tourism: People on the Move
Chapter 17: Transnational Corporations: The Governance of Foreign Investment
Chapter 18: Food and Hunger: Market Failure and Injsutice
Chapter 19: Oil and Energy: Dependency and Resources Curses
Chapter 20: The Environment: Steering Away from Global Disaster