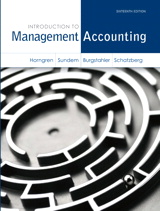 Description
Directed primarily toward Accounting college/university majors, this text also provides practical content to current and aspiring industry professionals.

Introduction to Management Accounting helps to enhance readers' ability to make effective economic decisions by encouraging them to understand the inner-workings of the concepts, rather than solely focusing on technique memorization. Overall, this text describes both theory and common practices in a way that will help readers produce information that's useful in day-to-day decision-making.
013305974X / 9780133059748 Introduction to Management Accounting Plus NEW MyAccountingLab with Pearson eText -- Access Card Package
Package consists of:
0133058786 / 9780133058789 Introduction to Management Accounting
0133059251 / 9780133059250 NEW MyAccountingLab with Pearson eText -- Access Card -- for Introduction to Management Accounting
Table of Contents
I. FOCUS ON DECISION MAKING
1. Managerial Accounting, the Business Organization, and Professional Ethics
2. Introduction to Cost Behavior and Cost-Volume Relationships
3. Measurement of Cost Behavior
4. Cost Management Systems and Activity-Based Costing
5. Relevant Information for Decision Making with a Focus on Pricing Decisions
6. Relevant Information for Decision Making with a Focus on Operational Decisions

II. ACCOUNTING FOR PLANNING AND CONTROL
7. Introduction to Budgets and Preparing the Master Budget
8. Flexible Budgets and Variance Analysis
9. Management Control Systems and Responsibility Accounting
10. Management Control in Decentralized Organizations

III. CAPITAL BUDGETING
11. Capital Budgeting

IV. PRODUCT COSTING
12. Cost Allocation
13. Accounting for Overhead Costs
14. Job-Costing and Process-Costing Systems

V. BASIC FINANCIAL ACCOUNTING
15. Basic Accounting: Concepts, Techniques, and Conventions
16. Understanding Corporate Annual Reports: Basic Financial Statements
17. Understanding and Analyzing Consolidated Financial Statements
Purchase Info
Digital Choices ?
MyLab & Mastering with Pearson eText is a complete digital substitute for a print value pack at a lower price.
MyLab & Mastering ?
MyLab & Mastering products deliver customizable content and highly personalized study paths, responsive learning tools, and real-time evaluation and diagnostics. MyLab & Mastering products help move students toward the moment that matters most—the moment of true understanding and learning.
+ Other Options
eTextbook ?
With CourseSmart eTextbooks and eResources, you save up to 60% off the price of new print textbooks, and can switch between studying online or offline to suit your needs.
Once you have purchased your eTextbooks and added them to your CourseSmart bookshelf, you can access them anytime, anywhere.
Print Choices
Alternative Options ?
Click on the titles below to learn more about these options.