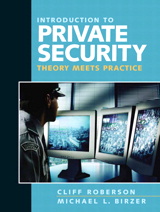 Description
For courses in Introduction to Private Security.
This one-semester text discusses all aspects of private security–from recruiting, selecting and training security personnel to testifying in court. Designed to help address the need for more in-depth education and increased licensing demands, the book presents topics using independent chapters that deliver a complete picture of the field. Action boxes appear throughout the text and feature down to earth examples. Margin definitions, class exercises and review questions are included to improve student learning and encourage class participation.
Table of Contents
1. Introduction to Private Security
2. Security, Crime and the Physical Environment
3. Private Security and the Community Policing Connection
4. Security Management
5. Retail Business Security
6. Terrorism and Natural Disasters
7. Investigating Crime
8. Computer Network Security
9. Criminal Issues in Private Security
10. Civil Liability Issues in Private Security
11. Testifying in Court
12. Recruiting, Selecting, and Training Security Personnel
13. Drug and Alcohol Issues for Private Security
14. Ethical Issues in Private Security
Purchase Info ?
With CourseSmart eTextbooks and eResources, you save up to 60% off the price of new print textbooks, and can switch between studying online or offline to suit your needs.
Once you have purchased your eTextbooks and added them to your CourseSmart bookshelf, you can access them anytime, anywhere.
Buy Access
Introduction to Private Security: Theory Meets Practice, CourseSmart eTextbook
Format: Safari Book
$45.99 | ISBN-13: 978-0-13-505580-9