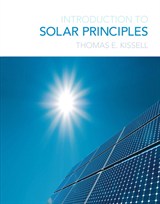 Description
This book explains the basic principles of solar energy used to create electricity through photovoltaic (PV) cells or solar heating for hot water and residential and commercial heating systems. The book will help prepare students for green energy jobs such as selling, installing, troubleshooting and repair of solar energy systems.
Table of Contents
Chapter 1- Intro. to Solar Energy
Chapter 2- Electical and Energy Demand for the US and the World
Chapter 3- Types of Solar Energy Systems
Chapter 4- Solar Energy Installations and Solar Farms
Chapter 5- Basic Photovoltaic Principles and Types of Solar PV Cells
Chapter 6- Construction and Manufacturing of Solar PV Cells
Chapter 7- Basic Electrical Principles Used for Solar PV Systems
Chapter 8- Photovoltaic Controllers and Inverters
Chapter 9- Storing Electrical Energy and Batteries
Chapter 10- The Grid and Integration of Solar Generated Electricity Into the Grid
Chapter 11- Installing, Troubleshooting, and Maintaining Solar Energy Systems
Chapter 12- Electricity and Electronics for Solar Energy Systems
Purchase Info ?
With CourseSmart eTextbooks and eResources, you save up to 60% off the price of new print textbooks, and can switch between studying online or offline to suit your needs.
Once you have purchased your eTextbooks and added them to your CourseSmart bookshelf, you can access them anytime, anywhere.
Buy Access
Introduction to Solar Principles, CourseSmart eTextbook
Format: Safari Book
$63.99 | ISBN-13: 978-0-13-512439-0