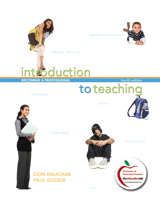 Description
This best-selling case-based text,
Introduction to Teaching: Becoming a Professional,
provide tomorrow's teachers with a deeper understanding of and better preparation for the teaching profession by weaving in three themes central to teaching today—professionalism, diversity, and reform. Two central questions frame the text: "Do I want to be a teacher?" and "What kind of teacher do I want to become?". The fourth edition has been revised to provide you with a more engaging experience as you consider if you want to be a teacher and what kind of teacher you want to become. Captivating classroom-based cases and interactive features will help you reflect on your responses to topics such as the implications of increasingly diverse classrooms, the assessment and standards-driven educational climate, and more. A revoluationary new online component, MyEducationLab, provides you with interactive self-assessments and video-based activities. To order this book WITHOUT MyEducationLab use this ISBN: 9780137012329. To order this book WITH MyEducationLab use this ISBN: 9780131381278. Click
here
to learn more about MyEducationLab.
This Student Value Edition is a three-hole punched, loose-leaf version of the textbook and provides students the opportunity to personalize their book by incorporating their own notes and taking only the portion of the book they need to class – all at a fraction of the bound book price.