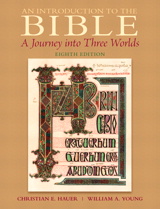 Description
For one semester/quarter courses in Introduction to the Bible, Introduction to the Hebrew Bible/Old Testament, or The Bible as Literature.
An Introduction To The Bible approaches the Bible by considering it from three different 'worlds'-- literary, historical, and contemporary worlds. This unique approach underscores the dynamics of each of world and the methods scholars have developed to study them. The authors are especially careful to distinguish the historical and literary worlds for students new to the discipline. Students are also encouraged to consider and discuss the contemporary significance of the Bible.
Table of Contents
PART ONE: Introduction
Chapter 1 The Three Worlds of the Bible: An Orientation 1
Chapter 2 Preparing for the Journey: An Orientation to the Methods of Biblical Study
PART TWO: The Torah
Chapter 3 Origins: The Book of Genesis 67
Chapter 4 Covenant: Exodus, Leviticus, Numbers, and
PART THREE: Prophets
Chapter 5 The Nation Israel: Joshua, Judges, First and Second Samuel, First and Second Kings (The Former Prophets) 109
Chapter 6 Covenant Advocates: The Prophets of Ancient Israel (The Latter Prophets) 137
PART FOUR: The Writings
Chapter 7 Israel's Sacred Songs: Psalms, Song of Songs, and Lamentations (The Writings I) 163
Chapter 8 The Way of Wisdom: Proverbs, Job, Ecclesiastes (The Writings II) 179
Chapter 9 The Rest of the Writings: Chronicles, Ezra, Nehemiah, Ruth, Esther, and Daniel
PART FIVE: After the Tanak
Chapter 10 Jewish Life and Literature (200 B.C.E - 100 C.E.) 213
PART SIX: The Gospels
Chapter 11 Jesus of Nazereth 239
Chapter 12 The Four Gospels: Mark, Matthew, Luke, and John 261
PART SEVEN: The Acts of the Apostles
Chapter 13 The Birth of Christianity: The Acts of the Apostles 289
PART EIGHT: Letters
Chapter 14 Paul: Apostle to the Gentiles—The Letters of Paul 307
Chapter 15 The Growing Church: The Pastoral and General Epistles, Hebrews, and the Revelation to John 329
PART NINE: Conclusion
Chapter 16 Journey On! 357
Purchase Info ?
With CourseSmart eTextbooks and eResources, you save up to 60% off the price of new print textbooks, and can switch between studying online or offline to suit your needs.
Once you have purchased your eTextbooks and added them to your CourseSmart bookshelf, you can access them anytime, anywhere.
Buy Access
Introduction to the Bible, CourseSmart eTextbook, 8th Edition
Format: Safari Book
$51.99 | ISBN-13: 978-0-205-05164-9