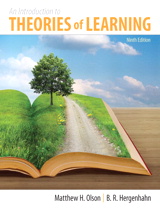 Description
BASIC APPROACH
Clearly written and user-friendly, this comprehensive book defines learning and shows how the learning process is studied. Introduction to the Theories of Learning places learning in its historical perspective and provides appreciation for the figures and theories that have shaped 100 years of learning theory research.
The ninth edition has been updated with the most current research in the field. With Pearson's MySearchLab with interactive eText and Experiment's Tool, this program is more user-friendly than ever.
Learning Goals
Upon completing this book, readers should be able to:
Define learning and show how the learning process is studied
Place learning theory in historical perspective
Present essential features of the major theories of learning with implications for educational practice.
Purchase Info ?
With CourseSmart eTextbooks and eResources, you save up to 60% off the price of new print textbooks, and can switch between studying online or offline to suit your needs.
Once you have purchased your eTextbooks and added them to your CourseSmart bookshelf, you can access them anytime, anywhere.
Buy Access
Introduction to Theories of Learning, An, CourseSmart eTextbook, 9th Edition
Format: Safari Book
$81.99 | ISBN-13: 978-0-205-92039-6