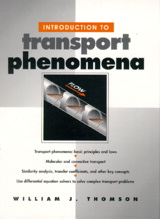 Table of Contents
I. MOLECULAR TRANSPORT.
1. The Nature of Transport Phenomena.
2. Transport Phenomena Laws.
3. One-Dimensional Molecular Energy Transport.
4. Molecular Mass Transport.
5. Molecular Momentum Transport.
6. The Transport Coefficients.
7. Similarity Analyses.
II. CONVECTIVE TRANSPORT.
8. Convective Transport in Laminar Flow.
9. Turbulent Transport.
10. Transfer Coefficients.
III. MACROSCOPIC CALCULATIONS.
11. Macroscopic Calculations: Momentum Transport.
12. Macroscopic Calculations: Energy Transport.
13. Macroscopic Calculations: Mass Transfer.
Appendix A. Generalized Equations of Change.
Appendix B. Using MATLAB ODE.
Appendix C. Lennard-Jones Parameters and Collision Integrals.
Appendix D. The Error Function.
Appendix E: Viscosity, Thermal Conductivity Data.
Appendix F. Conversion Factors.
Index.