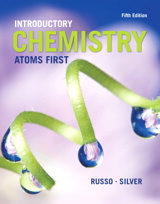 Description
An atoms-first approach for introductory, preparatory, basic chemistry courses
Carrying through an atoms-first approach from the first four editions, and helping you focus on mastering the quantitative skills and conceptual knowledge you need to get a true understanding of chemistry, Russo and Silver's
I
ntroductory Chemistry, Fifth Edition
continues the tradition of relevance that makes it so effective. Now including MasteringChemistry
®
, the leading online homework, tutorial, and assessment product with a demonstrated record of helping students quickly master concepts, this
Fifth Edition
includes new opportunities for you to practice key concepts. MasteringChemistry provides seamless synergy with the text to create a dynamic learning program that enables you to learn both in and out of the classroom.
With Russo and Silver's
Introductory Chemistry
, Fifth Edition
and MasteringChemistry, you get a complete teaching and learning program that gives you critical tools for ensuring a successful introduction to chemistry, including:
An atoms-first approach to chemistry: Through an atoms-first approach used effectively in the previous four editions, you begin to learn starting from the building blocks of matter and progress to understanding complex concepts from a logical point of view and with a deep understanding.
Personalized, interactive learning for achieving proficiency of the concepts with MasteringChemistry: Self-paced tutorials guide you through the text's most challenging topics; provide immediate, specific feedback and reinforcement; and present varied content to keep you engaged and on track.
An emphasis on core concepts for solving quantitative and qualitative problems: Geta true understanding of introductory chemistry by using material that presents problem solving and comprehension as complimentary skills, rather than encouraging rote memorization.
Features that demonstrate how relevant chemistry concepts are in students' lives: A number of outstanding features that show chemistry as a fascinating science.
Note: You are purchasing a standalone product; MasteringChemistry does not come packaged with this content. If you would like to purchase both the physical text and MasteringChemistry search for ISBN-10: 0321926951 /ISBN-13: 9780321926951. That package includes ISBN-10: 0321927117 /ISBN-13: 9780321927118 and ISBN-10: 0321933729 /ISBN-13: 9780321933720.
¿
MasteringChemistry is not a self-paced technology and should only be purchased when required by an instructor.
¿
¿
Table of Contents
1. What is Chemistry?
2. The Numerical Side of Chemistry
3. The Evolution of Atomic Theory
4. The Modern Model of the Atom
5. Chemical Bonding and Nomenclature
6. The Shape of Molecules
7. Intermolecular Forces and the Phases of Matter
8. Chemical Reactions
9. Stoichiometry and the Mole
10. Electron Transfer in Chemical Reactions
11. What If There Were No Intermolecular Forces? The Ideal Gas
12. Solutions
13. When Reactants Turn into Products
14. Chemical Equilibrium
15. Electrolytes, Acids, and Bases
16. Nuclear Chemistry
17. The Chemistry of Carbon
18. Synthetic and Biological Polymers


Enhance your learning experience with text-specific study materials.
This title is also sold in the various packages listed below. Before purchasing one of these packages, speak with your professor about which one will help you be successful in your course.
Package ISBN-13: 9780134177045
Includes this title packaged with:
Modified MasteringChemistry with Pearson eText -- ValuePack Access Card -- for Introductory Chemistry: Atoms First, 5th Edition
Steve Russo, Michael E. Silver
$220.40 | Add to Cart
Purchase Info
Digital Choices ?
MyLab & Mastering with Pearson eText is a complete digital substitute for a print value pack at a lower price.
MyLab & Mastering ?
MyLab & Mastering products deliver customizable content and highly personalized study paths, responsive learning tools, and real-time evaluation and diagnostics. MyLab & Mastering products help move students toward the moment that matters most—the moment of true understanding and learning.
+ Other Options
eTextbook ?
With CourseSmart eTextbooks and eResources, you save up to 60% off the price of new print textbooks, and can switch between studying online or offline to suit your needs.
Once you have purchased your eTextbooks and added them to your CourseSmart bookshelf, you can access them anytime, anywhere.
Print Choices
Alternative Options ?
Click on the titles below to learn more about these options.