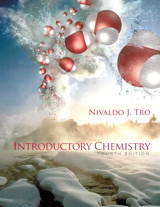 Description
Introductory chemistry students need to develop problem-solving skills, and they also must see why these skills are important to them and to their world. Introductory Chemistry, Fourth Edition extends chemistry from the laboratory to the student's world, motivating students to learn chemistry by demonstrating how it is manifested in their daily lives. Throughout, the Fourth Edition presents a new student-friendly, step-by-step problem-solving approach that adds four steps to each worked example (Sort, Strategize, Solve, and Check). Tro's acclaimed pedagogical features include Solution Maps, Two-Column Examples, Three-Column Problem-Solving Procedures, and Conceptual Checkpoints. CourseSmart textbooks do not include any media or print supplements that come packaged with the bound book.
Purchase Info ?
With CourseSmart eTextbooks and eResources, you save up to 60% off the price of new print textbooks, and can switch between studying online or offline to suit your needs.
Once you have purchased your eTextbooks and added them to your CourseSmart bookshelf, you can access them anytime, anywhere.
Buy Access
Introductory Chemistry, CourseSmart eTextbook, 4th Edition
Format: Safari Book
$80.99 | ISBN-13: 978-0-321-73004-6