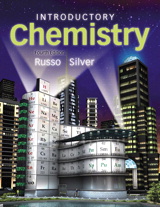 Description
Introductory Chemistry, Fourth Edition uses an engaging narrative and stunning illustrations that make this a text students will actually read. Written from an atoms-first approach, the authors focus on the concepts behind chemical equations to help students become more proficient problem solvers. Unlike other books that emphasize rote memorization of problem-solving algorithms, this text helps students master the quantitative skills and conceptual understanding needed to gain a deeper understanding of chemistry. CourseSmart textbooks do not include any media or print supplements that come packaged with the bound book.
Table of Contents
Chapter 1: What is Chemistry?
Chapter 2: The Numerical Side of Chemistry
Chapter 3: Water is Water (or is it?)
Chapter 4: The Modern Model of the Atom
Chapter 5: Chemical Bonding and Nomenclature
Chapter 6: The Shape of Molecules
Chapter 7: Intermolecular Forces and the Phases of Matter
Chapter 8: Chemical Reactions
Chapter 9: Stoichiometry and the Mole
Chapter 10: The Transfer of Electrons from One Atom to Another in Chemical Reactions
Chapter 11: What If There Were No Imtermolecular Forces? The Ideal Gas
Chapter 12: Solutions
Chapter 13: When Reactants Turn into Products
Chapter 14: Chemical Equilibrium
Chapter 15: Electrolytes, Acids, and Bases
Chapter 16: Nuclear Chemistry
Chapter 17: The Chemistry of Carbon**
Chapter 18: Synthetic and Biological Polymers**

**eChapters
Purchase Info ?
With CourseSmart eTextbooks and eResources, you save up to 60% off the price of new print textbooks, and can switch between studying online or offline to suit your needs.
Once you have purchased your eTextbooks and added them to your CourseSmart bookshelf, you can access them anytime, anywhere.
Buy Access
Introductory Chemistry, CourseSmart eTextbook, 4th Edition
Format: Safari Book
$80.99 | ISBN-13: 978-0-321-73024-4