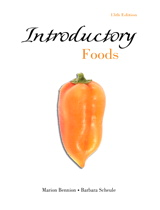 Description
A leading seller for many years, this book has helped prepare thousands of readers for careers as food scientists, foodservice managers, dieticians, and extension agents. Written for the beginner, it provides clear, straightforward explanations of all of the basic principles of food preparation. It treats the chemistry involved in a way that is non-threatening and does not interfere with the flow of the book. The first part covers basic principles, preparing the way for discussions in subsequent chapters. The new edition encompasses the latest information on technological advances in food preparation and processing. It also deals with the effect of shifting demographics on food trends, and the increasing body of knowledge available to the general populace about nutrition.
Table of Contents
Table of Contents
Feature Boxes
Preface
INTRODUCTION
Chapter 1 Food Choices and Sensory Characteristics
Chapter 2 Food Economics and Convenience
Chapter 3 Food Safety
Chapter 4 Food Regulations and Standards
PRINCIPLES OF COOKERY
Chapter 5 Back to Basics
Chapter 6 Heat Transfer in Cooking
Chapter 7 Microwave Cooking
Chapter 8 Seasonings, Flavorings, and Food Additives
Chapter 9 Food Composition
Chapter 10 Fats, frying, and Emulsions
SWEETENERS, CRYSTALLIZATION, STARCH, AND CEREAL GRAINS
Chapter 11 Sweeteners and Sugar Cookery
Chapter 12 Frozen Desserts
Chapter 13 Starch
Chapter 14 Pasta and Cereal Grains
BAKERY PRODUCTS
Chapter 15 Batters and Doughs
Chapter 16 Quick Breads
Chapter 17 Yeast Breads
Chapter 18 Cakes and Cookies
Chapter 19 Pastry FRUITS, VEGETABLES, AND SALADS
Chapter 20 Vegetables and Vegetable Preparaton
Chapter 21 Fruits and Fruit Preparation
Chapter 22 Salads and Gelatin Salads DAIRY PRODUCTS AND EGGS
Chapter 23 Milk and Milk Products
Chapter 24 Eggs and Egg Cookery MEAT, POULTRY, AND SEAFOOD
Chapter 25 Meat and Meat Cookery
Chapter 26 Poultry Chapter 27 Seafood BEVERAGES
Chapter 28 Beverages
FOOD PRESERVATION
Chapter 29 Food Preservation and Packaging
Chapter 30 Food Preservation by Freezing and Canning
Appendix A Weights and Measures
Symbols for Measurements
Equivalents
Some Ingredient Substitutions
Standard Can Sizes
Metric Conversions
Common Measurements Used in Food Preparation
Approximate Number of Cups in a Pound of Some Common Foods
Weights and Measures for Some Food Ingredients
Appendix B Temperature Control
Oven Temperatures
Thermometers for Other Uses
Converting Fahrenheit and Celsius Temperatures
Appendix C Nutritive Value of Selected Foods
Appendix D Glossary
Index
These online resources are available at no cost.
Companion Website with PowerPoints for Introductory Foods, 13th Edition