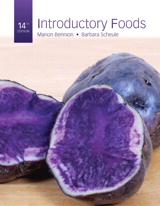 Description
For courses in introductory foods, food science, and food preparation.
A market-leading introduction to all things food.
Introductory Foods, Fourteenth Edition, is a market-leading introduction to the fundamental principles of food preparation and the many innovations and emerging trends in food science and technology. The text explores the "how's and why's" of food preparation and integrates food preparation, science, technology, safety, government regulation, and consumption trends while imparting an appreciation for the role food plays in human life, culture, and health.Chapters follow a scientific approach to examine ingredients and techniques used in food preparation. Introductory Foods is ideal for introductory courses in food preparation for students studying nutrition and dietetics, hospitality management, family and consumer science education, and culinary arts.
Table of Contents
INTRODUCTION
Chapter 1 Food Choices and Sensory Characteristics
Chapter 2 Food Economics and Convenience
Chapter 3 Food Safety
Chapter 4 Food Regulations and Standards
PRINCIPLES OF COOKERY
Chapter 5 Back to Basics
Chapter 6 Heat Transfer in Cooking
Chapter 7 Microwave Cooking
Chapter 8 Seasonings, Flavorings, and Food Additives
Chapter 9 Food Composition
Chapter 10 Fats, frying, and Emulsions
SWEETENERS, CRYSTALLIZATION, STARCH, AND CEREAL GRAINS
Chapter 11 Sweeteners and Sugar Cookery
Chapter 12 Frozen Desserts
Chapter 13 Starch
Chapter 14 Pasta and Cereal Grains
BAKERY PRODUCTS
Chapter 15 Batters and Doughs
Chapter 16 Quick Breads
Chapter 17 Yeast Breads
Chapter 18 Cakes and Cookies
Chapter 19 Pastry
FRUITS, VEGETABLES, AND SALADS
Chapter 20 Vegetables and Vegetable Preparation
Chapter 21 Fruits and Fruit Preparation
Chapter 22 Salads and Gelatin Salads
DAIRY PRODUCTS AND EGGS
Chapter 23 Milk and Milk Products
Chapter 24 Eggs and Egg Cookery
MEAT, POULTRY, AND SEAFOOD
Chapter 25 Meat and Meat Cookery
Chapter 26 Poultry Chapter 27 Seafood
BEVERAGES
Chapter 28 Beverages
FOOD PRESERVATION
Chapter 29 Food Preservation and Packaging
Chapter 30 Food Preservation by Freezing and Canning
Appendix A Weights and Measures
Appendix B Temperature Control
Appendix C Nutritive Value of Selected Foods
Appendix D Glossary
Purchase Info ?
With CourseSmart eTextbooks and eResources, you save up to 60% off the price of new print textbooks, and can switch between studying online or offline to suit your needs.
Once you have purchased your eTextbooks and added them to your CourseSmart bookshelf, you can access them anytime, anywhere.
Buy Access
Introductory Foods, CourseSmart eTextbook, 14th Edition
Format: Safari Book
$82.99 | ISBN-13: 978-0-13-273955-9