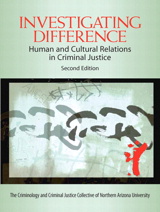 Description
For courses that investigate race, class, and gender issues in Criminal Justice.
Investigating Difference examines the full range of individual differences across the entire criminal justice system. Moving beyond just race and gender, it tackles differences based on experience, age, socio-economic class, disabilities and more. Written by a variety of leaders in the field, it looks at how these variances impact all people within the system, including victims, offenders, and service providers. This edition continues to emphasize positive solutions and includes new "case-in-point" illustrations that discuss how difference matters.
Table of Contents
Part One: Conceptualizing Difference
1. Introduction: Investigating Difference--Lynn Jones, Marianne O. Nielsen, and Barbara Perry
2. Conceptualizing Difference–Nancy Wonders
3. Privilege and the Construction of Crime–Larry Gould
4. Talking Through Our Differences: Investigating Difference: Human and Cultural Relations in Criminal Justice--Marianne O. Nielsen and Rebecca Maniglia
Part Two: Categories of Difference
5. Class Difference and the Social Construction of Crime and Criminality–Raymond Michalowski
6. Stolen lands, Stolen Lives: Native Americans and Criminal Justice–Marianne O. Nielsen and Linda Robyn
7. Exclusion, Inclusion and Violence: Immigrants and Criminal Justice--Barbara Perry, Mike Costelloe, and Luis Fernandez
8. The Significance of Race: African Americans and Criminal Justice--Brian J. Smith
9. Unwelcome Citizens: Latinos and the Criminal Justice System–Luis Fernandez and Alexander Alvarez
10. Perpetual Outsiders: Criminal Justice and the Asian American Experience--Barbara Perry
11: Women's difference in the Criminal Justice System: Constructions of Victims, Offenders and Workers--Karla B. Hackstaff and Paula Rector
12. Gay Men, Lesbians and Criminal Justice--Barbara Perry
13. Old Enough and Knowing Better: Aging and Criminal Justice —Carole Mandino
14. Youth Crime and Justice in a Changing Society–Rebecca Maniglia
15. The Invisible Minority: Individuals with Disability–Cynthia Baroody-Hart and Meghan McDowell
16. In Whose God We Trust? Religious Differences, Persecution, and Criminal Justice–Barbara Perry and Phoebe Morgan
Part Three: How Does Difference Matter?
17. Moral Panics and Immigration–Michael Costelloe
18. Fairness in the Courts: Investigating and Addressing Race, Ethic and Gender Bias —Dennis Catlin
19. Wrongful Conviction-Robert Schehr
Part Four: Reframing Difference
20. Educating for Change: Cultural Awareness Training for Criminal Justice--Larry Gould
21. Irreconcilable Differences? Understanding the Crime Victim/Criminal Justice Worker Relationship–Lynn Jones, Phoebe Morgan, and Barbara Perry
Part Five: Conclusion
22. Reinvestigating Difference–Lynn Jones, Barbara Perry, and Marianne O. Nielsen