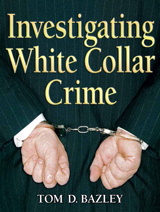 Description
For courses in White Collar Crime Investigation, Criminal Investigation, White Collar Crime.
Based on the author's career as a federal agent, this book offers a blueprint for investigating a wide array of white collar crimes. Its approach is comprehensive, examining the typology and investigative processes associated with these types of cases. Tactics such as search warrants, civic injunctions, and forfeiture are discussed throughout and examples of specific documents support many of the investigative techniques in the text. With its separate chapter on forensic science and discussion of both criminal and civil investigations, this is an essential resource for students and practitioners investigating white collar crime.
Table of Contents
1. Why Bother?
2. Getting Started
3. The Paper Chase: Documentary Evidence
4. Interviews: Gathering Testimonial Evidence
5. Search Warrants
6. Injunctions and Forfeitures: Halting the Crime and Taking Away the Profits
7. Evidence Analysis: Using the Experts
8. The Grand Jury and Criminal Charges
9. Civil and Administrative Investigations
10. Reaching a Disposition
APPENDICES
A. Transmittal Letter and Investigative Questionnaire
B. Memorandum of Telephone of Interview
C. Supplemental Search Warrant Information
D. Sample Declaration; Injunctive Action Under 18 USC 1345
E. Indictment
F. Federal Sentencing Guidelines
INDEX
Purchase Info ?
With CourseSmart eTextbooks and eResources, you save up to 60% off the price of new print textbooks, and can switch between studying online or offline to suit your needs.
Once you have purchased your eTextbooks and added them to your CourseSmart bookshelf, you can access them anytime, anywhere.
Buy Access
Investigating White Collar Crime, CourseSmart eTextbook
Format: Safari Book
$34.99 | ISBN-13: 978-0-13-500979-6