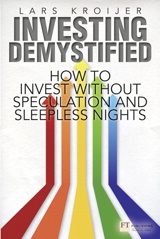 Description
Don't spend your time worrying whether you can beat the markets: you don't need to beat them to be a successful investor. By showing you how to build a simple and rational portfolio and tailor it to your specific needs, Investing Demystified will help you generate superior returns.
With his straightforward and jargon-free advice, Lars Kroijer simplies the often complex world of finance and tells you everything you need to know – and everything that you don't need to worry about – in order to make the most from your investments.
In Investing Demystified you will:
• Discover the mix of stocks, bonds and cash needed for a top performing portfolio
• Learn why the most broadly diversi_ ed and simplest portfolio makes the most sense
• Understand the right level of risk for you and how this affects your investments
• Find out why a low cost approach will yield bene_ ts whilst leaving you with a higher quality portfolio
• Understand the implications of tax and liquidity
Table of Contents
Acknowledgements
Foreword
1. Introduction
2. What is edge over the markets and do you have it?
3. What are the key components of the Rational Portfolio
Part II: Rational Portfolio
4. The Minimal Risk Asset – safe low risk returns
5. World equities – increased risk and return
6. The risk of equity markets
7. Adding other government and corporate bonds
8. Incorporating other assets
9. What you have left out of the portfolio and why
Part III: Tailoring and Implementing the Rational Portfolio
10. Financial plans and the risks we take
11. Tax
12. Liquidity
13. Expenses
14. Products and implementation
Part IV: Other Things to Think About
15. Pensions& Insurance
16. Apocalypse Investing
17. A wishlist to the financial sector
18. Conclusion
Purchase Info
Digital Choices
eTextbook ?
With CourseSmart eTextbooks and eResources, you save up to 60% off the price of new print textbooks, and can switch between studying online or offline to suit your needs.
Once you have purchased your eTextbooks and added them to your CourseSmart bookshelf, you can access them anytime, anywhere.