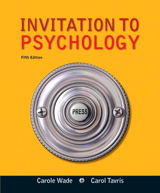 Description
Emphasizes critical thinking, culture, and gender
Invitation to Psychology, 5/e, shows students why scientific and critical thinking is so important in the decisions they make. In clear, lively, warm prose, this edition continues the title's integration of gender, culture, and ethnicity. By the end, readers will learn how to interpret research and to address and resolve controversies.
MyPsychLab is an integral part of the Wade/Tavris/Garry program. Engaging activities and assessments provide a teaching and learning system that helps students think like a psychologist. With MyPsychLab, students can watch videos on psychological research and applications, participate in virtual classic experiments, and develop critical thinking skills through writing.
Invitation to Psychology, 5/e is available in a new DSM-5 Updated edition. To learn more, click here.
This title is available in a variety of formats – digital and print. Pearson offers its titles on the devices students love through Pearson's MyLab products, CourseSmart, Amazon, and more.
Table of Contents
Brief Table of Contents
Chapter 1: What is Psychology?
Part One: Your Self
Chapter 2: Theories of Personality
Chapter 3: Development Over the Life Span
Part Two: Your Body
Chapter 4: Neurons, Hormones, and the Brain
Chapter 5: Body Rhythms and Mental States
Chapter 6: Sensation and Perception
Part Three: Your Mind
Chapter 7: Thinking and Intelligence
Chapter 8: Memory
Part Four: Your Environment
Chapter 9: Learning and Conditioning
Chapter 10: Behavior in Social and Cultural Context
Part Five: Your Mental Health
Chapter 11: Psychological Disorders
Chapter 12: Approaches to Treatment and Therapy
Part Six: Your Life
Chapter 13: Emotion, Stress, and Health
Chapter 14: The Major Motives of Life: Food, Love, Sex, and Work
Enhance your learning experience with text-specific study materials.