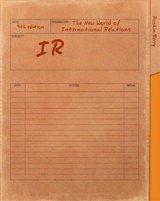 Description
Written from Mike Roskin's unique and engaging point-of-view, IR arms students with a direct and down-to-earth understanding of contemporary international relations.
This text surveys key events in world history as well as fundamental theoretical concepts to trace the international system's evolution and to assess its future. Putting the behavior of global actors into more complete context, IR helps students think critically about the challenges faced by the United States in an era of globalization.
Table of Contents
PART I. Approaches to IR
Chapter 1. Power and Systems in Transformation
Chapter 2. IR Theories in a Complex World
PART II. THE COLD WAR COME AND GONE
Chapter 3. America's Changing National Interests
Chapter 4. Vietnam and the Warping of National Interest
Chapter 5. Russia and Geopolitics
Chapter 6. Can the United States Lead the World?
PART III. THE GLOBAL SOUTH
Chapter 7. From Colonialism to Decolonization
Chapter 8. Eternal Warfare in the Holy Land
Chapter 9. Oil and Turmoil in the Persian Gulf
Chapter 10. Trouble and Hope in Latin America
Chapter 11. Development in Rich and Poor Countries
PART IV. THE ETERNAL THREATS
Chapter 12. The Causes of Interstate Conflict
Chapter 13. The Pursuit of National Security
Chapter 14. The Politics of Nuclear Bombs
Chapter 15. The Challenge of Asymmetrical Conflict
PART V. ECONOMIC BLOCS
Chapter 16. Europe Unifies
Chapter 17. Asia Awakes
Chapter 18. The United States and Globalization
PART VI. THE POLITICS OF A NEW WORLD
Chapter 19. Diplomacy Is Still Alive
Chapter 20. The Uses of International Law
Chapter 21. The Reach of the United Nations
Chapter 22. Finite F.E.W.(Food/Energy/Water)
Purchase Info ?
With CourseSmart eTextbooks and eResources, you save up to 60% off the price of new print textbooks, and can switch between studying online or offline to suit your needs.
Once you have purchased your eTextbooks and added them to your CourseSmart bookshelf, you can access them anytime, anywhere.
Buy Access
IR: The New World International Relations, CourseSmart eTextbook, 9th Edition
Format: Safari Book
$45.99 | ISBN-13: 978-0-205-08000-7